Julie Lee – The Connected Leader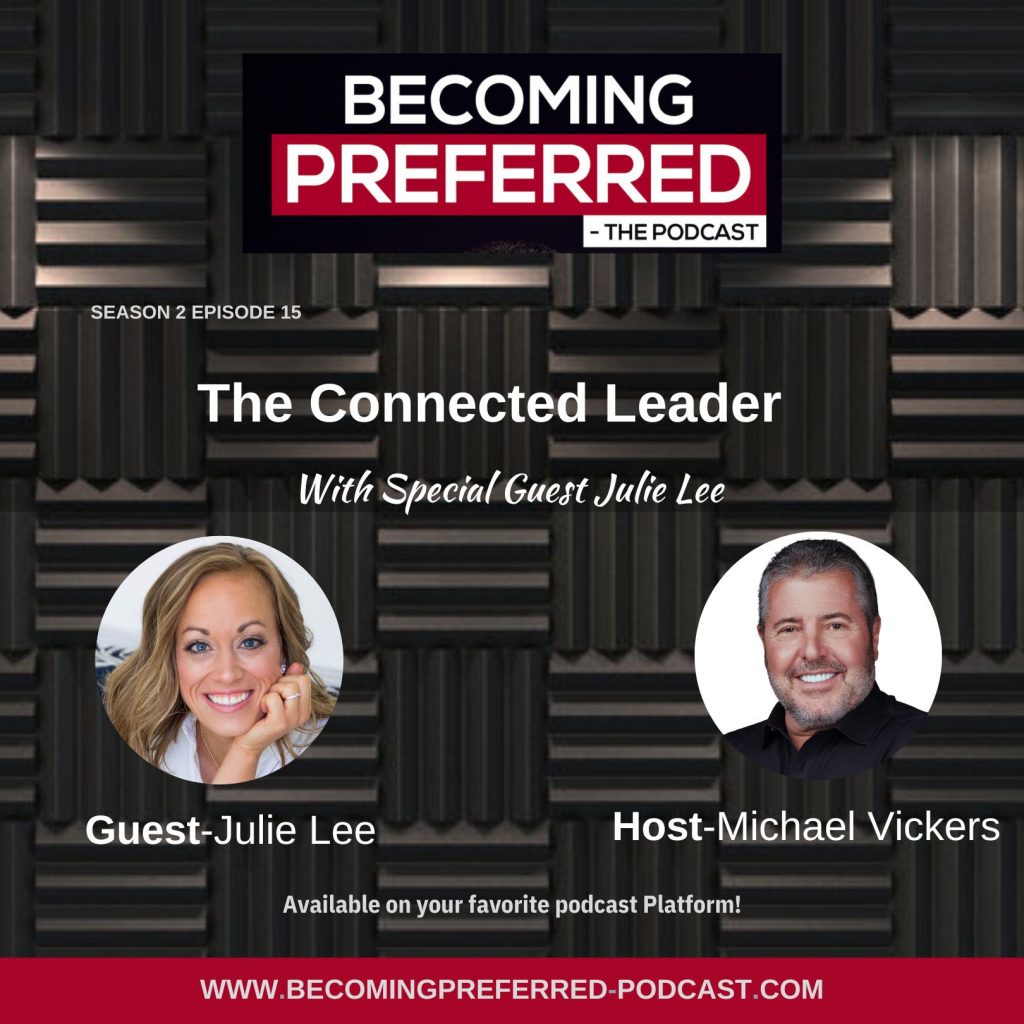 SEASON: 2 EPISODE: 15
Episode Overview:
The idea that prestige is what people want most from a job is outdated. The priority has become what they need, which is a positive work culture where they feel seen, appreciated, and trusted.
How do we become the kind of leader that can foster this kind of authenticity? How can we target specific skills that foster connection? How can we create trust by modeling how to be a genuine team player? How can we understand what matters most to our people?
When we do, we can expect innovative ideas and top performance to be at an all-time high as our people thrive in a workplace where they know they belong. To help us understand how to become a connected leader is my guest, Julie Lee.
Guest Bio:
Julie Lee is not a typical keynote speaker. Her personal experiences with human connection changed the trajectory of her life, ignited the passion behind her I See You mission, and made her into a powerful advocate of connected leadership. Through research and stories that are both vulnerable and inspiring, Julie delivers the wholehearted message that connection has the ability to up-level -even transform- work culture; a relevant message that is right on time.
Julie Lee is the author of I See You; How Compassion and Connection Save Lives and the children's book, Broccolipunzle; A Girl with Extraordinary Hair. With over 100 episodes on her podcast I See You, she empowers thousands of listeners to succeed in relationships by embracing human connection.
Resource Links:
Insight Gold Timestamps:
04:58 People that are high in social connection are less likely to struggle
07:38 I see you, I appreciate you and I trust you
08:11 How am I making sure my employees feel seen
10:15 They're going to want to follow you anywhere
15:44 Share the falling down and the getting up
18:00 Fostering connection through high definition thinking
19:09 Sometimes we look at people in black and white
20:56 Moving closer to their story almost always leads to greater compassion
25:59 How do we build a culture that's a good, thriving work environment
26:22 Probably the greatest leader I ever knew
29:53 I have learned some of these principles from very deep, hard suffering
Connect Socially:
LinkedIn: https://www.linkedin.com/in/julieleespeaks/
Facebook: https://www.facebook.com/julieleespeaks/
YouTube: https://www.youtube.com/@julielee9182
Instagram: https://www.instagram.com/julieleespeaks/
Podcast: I See You https://julieleespeaks.com/podcast/
Email: jlee42310@gmail.com
Sponsors:
Rainmaker Digital Solutions: https://www.rainmakerdigitalsolutions.com/
Resources: https://becomingpreferred-podcast.com/resources/
Next Episode: Strategies for Credit Score Success with Nathalie Noisette!