Eliot Hoppe – Body Language: Decoding Non-Verbal Communication Remotely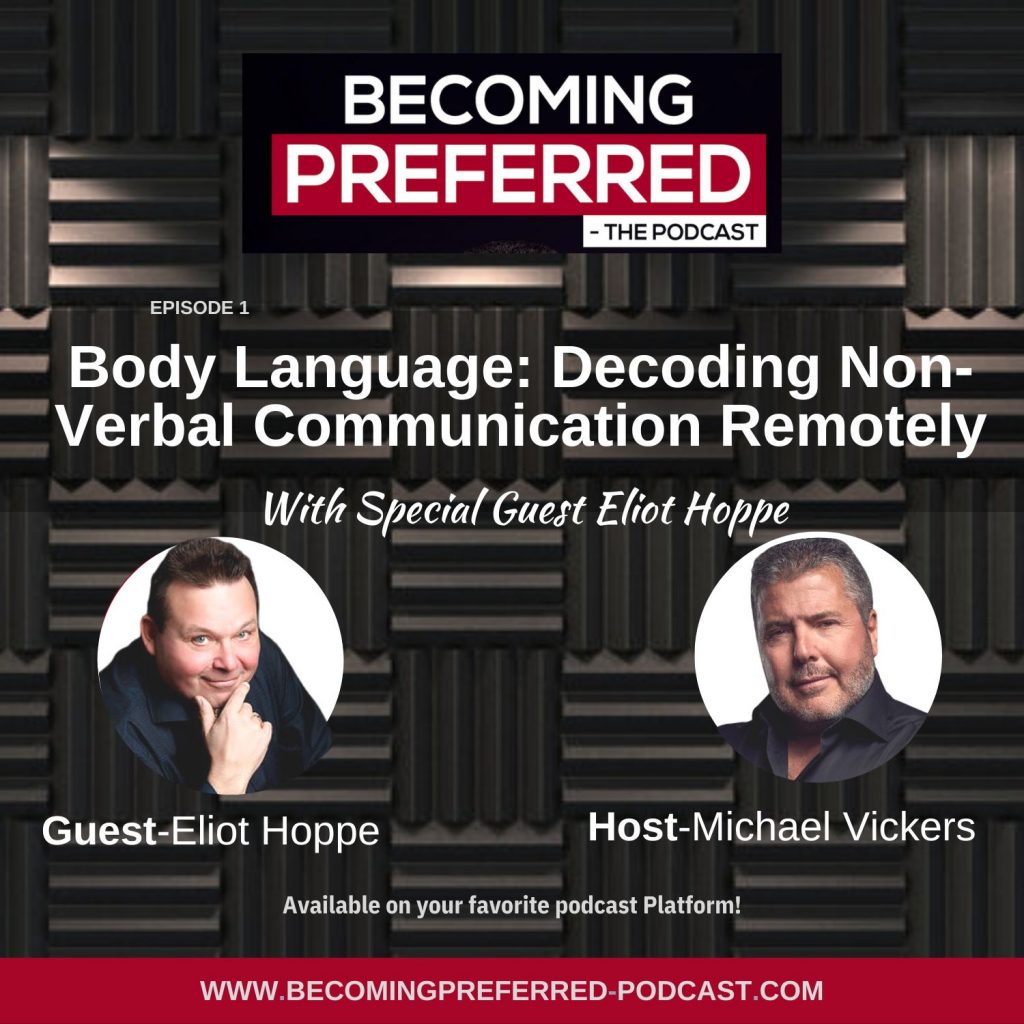 SEASON 1: EPISODE: 1
Episode Overview:
There are many books on nonverbal communication or body language, but this episode is for you if you want to take your skills to the next level. In this podcast, we will look at how to read and decode body language and nonverbal communication to enhance our communication and persuade and influence people. Remotely!
The key to interpreting nonverbal communication is to start with some guiding principles. My guest Eliot Hoppe is here to help us understand what to pay attention to. Eliot is a best-selling author, speaker, and coach and trains thousands each year in his virtual and live appearances. If you are looking for an edge in your communication, you will enjoy this episode.
Guest Bio:
Eliot Hoppe teaches how to decode the mind's decision-making criteria, communicate with ease, and ethically influence change. Eliot has trained internationally, and his message is clear: "You can not change your circumstances until you change the way you think!" because your thoughts influence your behavior, attitude, and emotional states.
Resource Links:
Insight Gold Timestamps:
06:17 Understanding your conscious mind
11:30 The body doesn't lie
13:45 The feet tell the story
16:01 The brain speaks to the hands
20:42 Look at the face
25:44 You have no control over excitement
28:53 Make sure you don't do this
30:33 Be sincere and genuine
34:37 Visit the website to download Body Language- Boardroom Basics
Connect Socially:
LinkedIn: https://www.linkedin.com/in/eliot-hoppe-3658979/
Facebook: https://www.facebook.com/eliot.hoppe
Sponsors:
Rainmaker Digital Solutions: https://www.rainmakerdigitalsolutions.com/
Resources: https://becomingpreferred-podcast.com/resources/
Next Episode: How to Develop a Pro Mindset with Jim Cathcart!