Cliff Quicksell – Secrets to Small Business Success and Profitability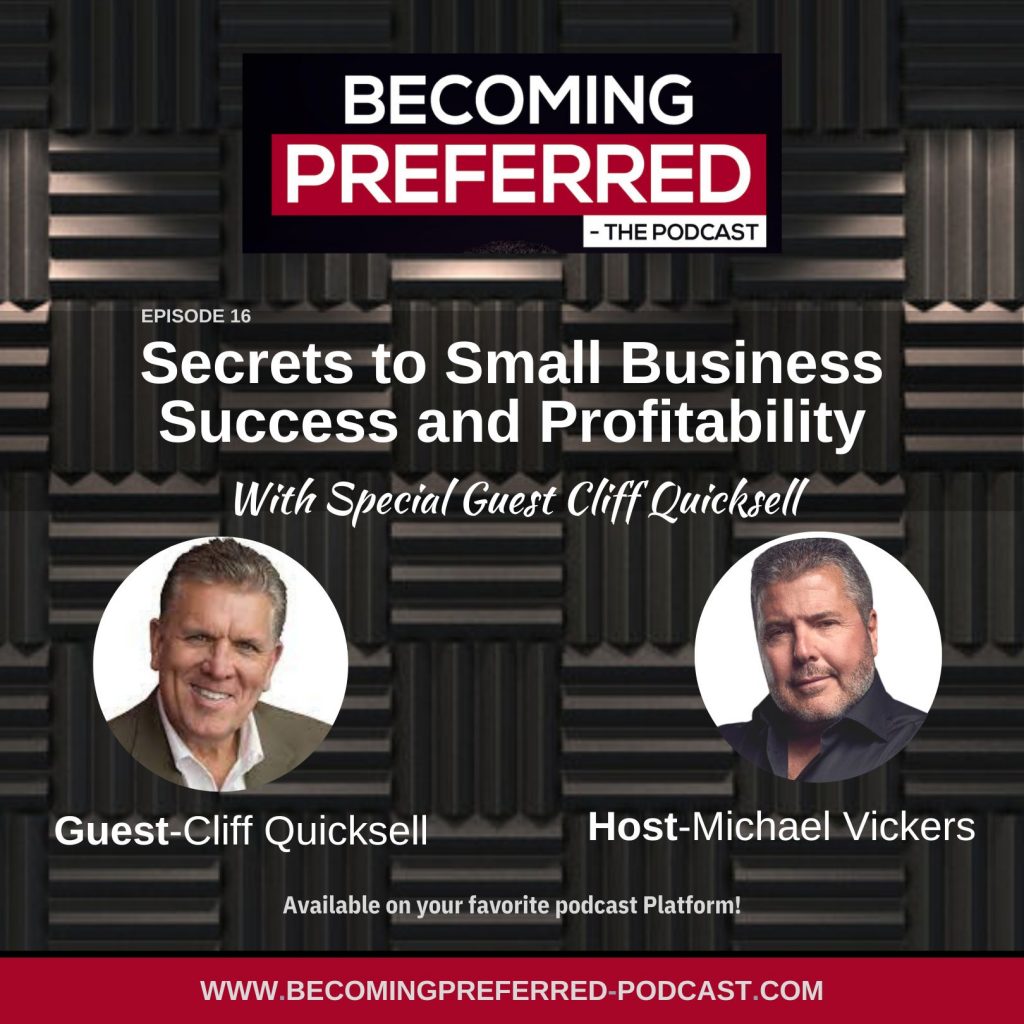 SEASON: 1 EPISODE: 16
Episode Overview:
Many businesses start without a plan, letting their entrepreneurial spirit drive their success. There does come a time where the business begins to take over and seemingly gets away from the owner. Frustration, angst and confusion creep in and the business is now driving the owner. This episode will bring to light some points, that when honed, can get your business back on the right track, putting you in complete control once again, where you now run the business. To help us understand how to do that is my guest, Cliff Quicksell.
Guest Bio:
Cliff Quicksell is on a mission to squash the mediocrity and fear that runs rampant in small businesses. As a speaker, author, consultant, and business coach, Cliff brings real-life lessons to leaders and sales and marketing teams who are tired of hearing "can't" and are ready to stop letting others dictate the boundaries of their success.
When he sits down with business owners or delivers marketing and leadership seminars/keynotes, he won't be talking theory. Cliff has lived the peril of a small business – nearly going bankrupt 5 times, building multi-million dollar equity positions, and winning 32+ awards for creative marketing campaigns.
As an international speaker, his real-world approach and infectious passion for challenging the status quo gets small businesses and franchise organizations back on the road to achieving their potential.
Resource Links:
Insight Gold Timestamps:
01:57 Being hungry is a heck of a motivator
03:10 When you are forced into a situation, you come out swinging or you just get beat up
06:17 Number one, you have to be eligible, and number two, you have to be coachable
10:53 Subconsciously, just the tone of my voice, or the way I'm carrying myself is going to be reflected in the way people are going to receive the information
20:13 When you don't have a rudder on your boat, the winds can blow you all over the place
22:49 You do the work, and the money will come
24:24 A strategic thinker is one that asks a lot of good questions
28:12 Melting the box
36:44 They just want to know you're thinking about them, when there's no transaction in play
38:10 The difference between ordinary and extraordinary is just a little extra
Connect Socially:
LinkedIn: https://www.linkedin.com/in/cliffquicksell1/
Facebook: https://www.facebook.com/Cliff-Quicksell-Associates-Quicksell-Speaks-Quicksell-Consulting-888885864648029
Twitter: https://twitter.com/cliffquicksell
YouTube: https://www.youtube.com/user/quicksellspeaksTV
Instagram: https://www.instagram.com/quicksellcliff/
Email: cliff@quicksellspeaks.com
Sponsors:
Rainmaker Digital Solutions: https://www.rainmakerdigitalsolutions.com/
Resources: https://becomingpreferred-podcast.com/resources/
Next Episode: Landing and Leveraging a TEDx Talk with Frank King!