Cody Lowry – The Art of the Schmooze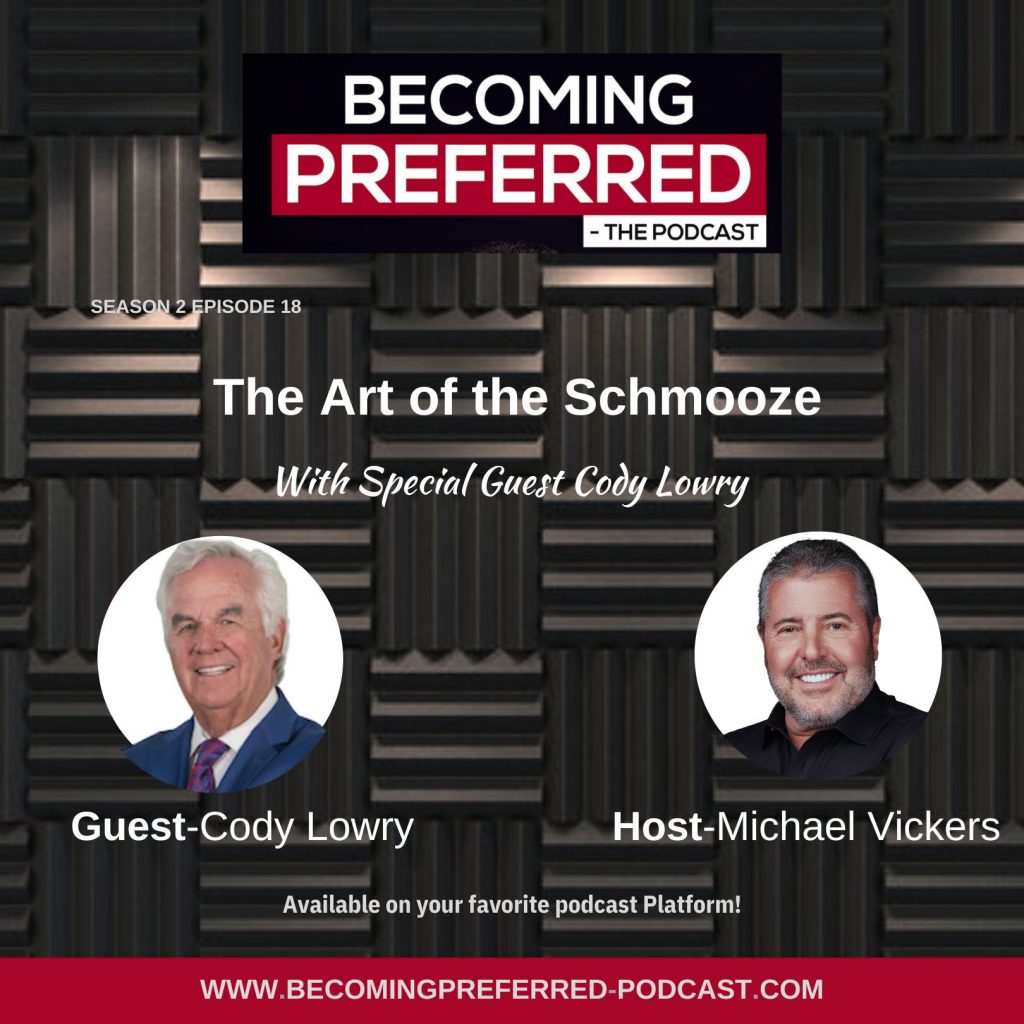 SEASON: 2 EPISODE: 18
Episode Overview:
Looking to give yourself an edge over the competition? We all know that relationship building is the key to success in life and business. It's who you know, not what you know, that can often make the difference.
To help us understand what they should teach you at Harvard Business School and how to professionally schmooze is author and speaker, Cody Lowry.
Guest Bio:
Cody takes on life with a unique perspective, executing bold ideas, making others laugh, and being ever mindful of the little guy. Past divisional President of The Intermark Group, a full-service advertising digital and branding agency located in Birmingham, Alabama, Cody is a refreshing change of pace and a welcome addition to any corporate boardroom looking for innovative, realistic, out of the box ideas and solutions.
Prior to joining the Intermark Group Cody was Founder and President of DynaMedia of America, a full- service advertising agency located in Tampa, Florida. With his instinctive Ritz Carlton-esque commitment to customer service, Cody successfully built a multi-million-dollar agency with client retention lasting as long as 30 years.
Cody holds a marketing and communication degree from the University of South Florida, but because of his humble and chaotic beginnings, he is most proud of his graduation from what Alan Dershowitz once termed Cody's diploma from the "The School of Hard Knocks."
Resource Links:
Insight Gold Timestamps:
03:01 I sold papers at age 11
04:17 The things that I learned selling newspapers I'm still utilizing today
06:14 I couldn't find anybody that wanted to hire me
08:09 Sometimes you act on instinct
11:01 Nobody is free of adversity
13:15 In the first 30 seconds that you meet somebody,,,,
15:46 You either want to be first or you wanna be last
17:24 You never get a second chance to make a first impression
18:30 To build trust quickly
19:51 Practice with absolute strangers where there's no risk of failure
21:27 The story behind Saturday Night Live
25:35 Discouraged by hearing the word no
26:18 You've got to experience a little defeat in your life
30:43 Make sure you follow up on the customer
Connect Socially:
LinkedIn: https://www.linkedin.com/in/cody-lowry-63a339a/
Facebook: https://www.facebook.com/profile.php?id=100088842590498
Twitter: https://twitter.com/cody1949
Instagram: https://www.instagram.com/emorycody/
Email: Myschmooze@gmail.com
Sponsors:
Rainmaker Digital Solutions: https://www.rainmakerdigitalsolutions.com/
Resources: https://becomingpreferred-podcast.com/resources/
Next Episode: Next Generation Leadership with Jason Muhammad!