David Kurkjian – Three Sins of Selling: Don't Make These Mistakes and Ruin Your Sale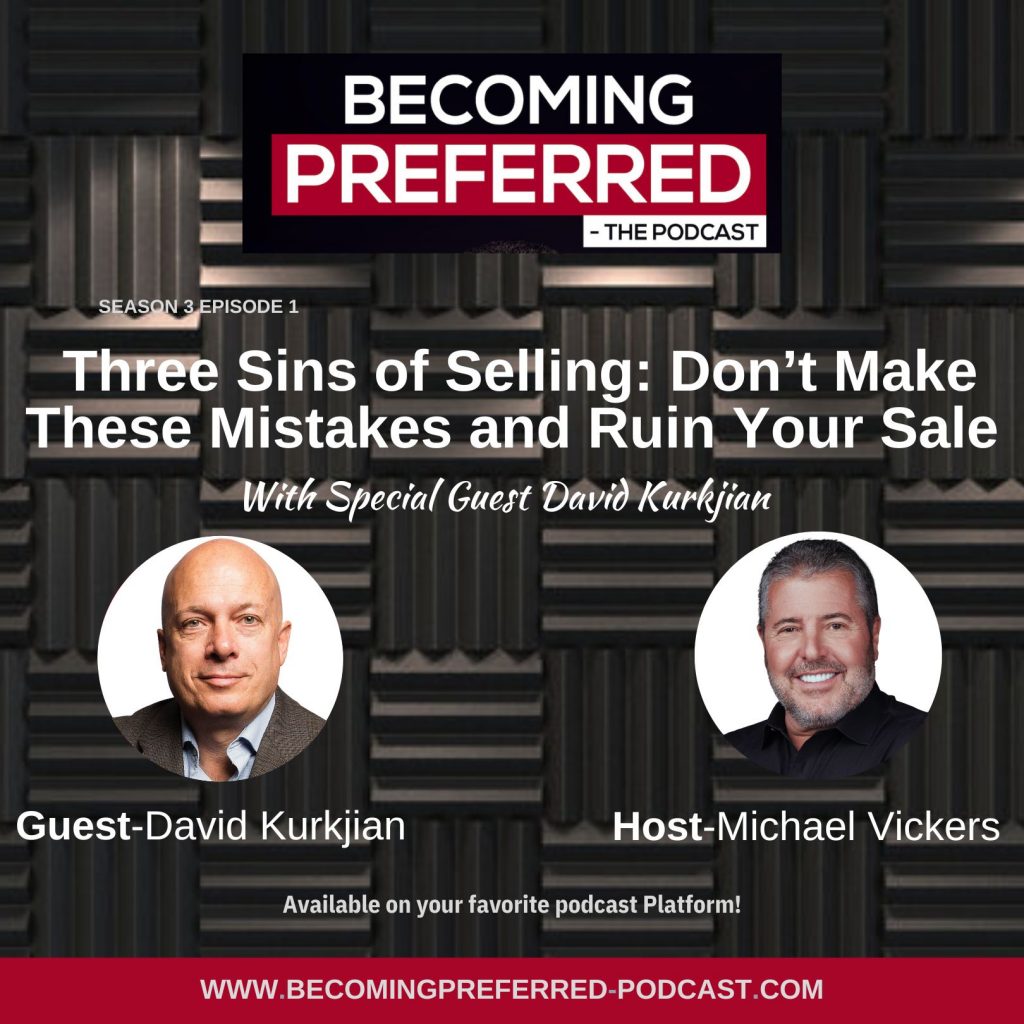 SEASON: 3 EPISODE: 1
Episode Overview:
In a commoditized and competitive world, buyers have unlimited choices in how they solve their problems. They also have vast information on the internet about those solutions. As a matter of fact, according to recent Gartner research, buyers only spend 17% of their time meeting with sales professionals. What this means is, the ability to communicate unique value for your product or service in early stage selling conversations is critical.
With these challenges as a backdrop, what if you could: Elevate the perceived value of your product or service or move more prospects through the early stages of the buyers journey. Well you can, and to help us understand how, is my guest, author, speaker and coach, David Kurkjian.
Guest Bio:
David Kurkjian is a 35-year sales veteran with success in companies such as Bellsouth and CareerBuilder. Educated as an engineer he discovered the secrets to sales success by exploring behavioral psychology and the science of human decision making.
In 2012 David founded MasterMessaging to help clients increase their revenue by mastering the ability to elevate their value. He also enjoys running barefoot, biking, and spending time with his wife, four grown children, and seven grandkids. His new book is 6X: Convert More Prospects to Customers.
Resource Links:
Insight Gold Timestamps:
02:47 Sales professionals are isolated
03:49 A great example of commoditization
05:49 You talk about mindset
07:00 Human beings have an innate ability to know when the conversation's not about them
08:45 You think that comes with maturity?
10:34 The emotional aspect is actually more important
13:58 It's that emotional element that has to be there in order for a human being to make a decision
14:35 The three sins of selling
16:57 All they're hearing is information that's about the salesperson
18:18 Take the focus off of you and put that focus on the prospect
21:55 Understanding human nature is a vital part of sales
22:28 Human beings make decisions based on meaning and emotion
25:41 If it was all about logic….
27:23 Here's why Whiteboarding is so effective
29:03 It takes time and effort to be creative and to stand out from the norm
30:25 Principle of threes
33:03 Sometimes what you have to do as a sales professional
34:24 Story is the most effective form of communication
37:16 Pro tips for handling objections or resistance
38:11 You can't logic your way out of an emotional issue
39:44 Value is king! If you communicate high value….
41:59 How you create a value position
43:46 The reason you use look is because that's how people remember
Connect Socially:
LinkedIn: https://www.linkedin.com/in/david-kurkjian-1891901/
Twitter: https://twitter.com/mastermessaging
YouTube: https://www.youtube.com/@davidkurkjian6897
Interview: https://www.youtube.com/watch?v=XJ12YZwPWmY
Email: dkurkjian@mastermessaging.com
Sponsors:
Rainmaker Digital Solutions: https://www.rainmakerdigitalsolutions.com/
Resources: https://becomingpreferred-podcast.com/resources/
Next Episode: Communicate with Confidence with Renée Marino!