David Owasi – AI Automation Lead Generation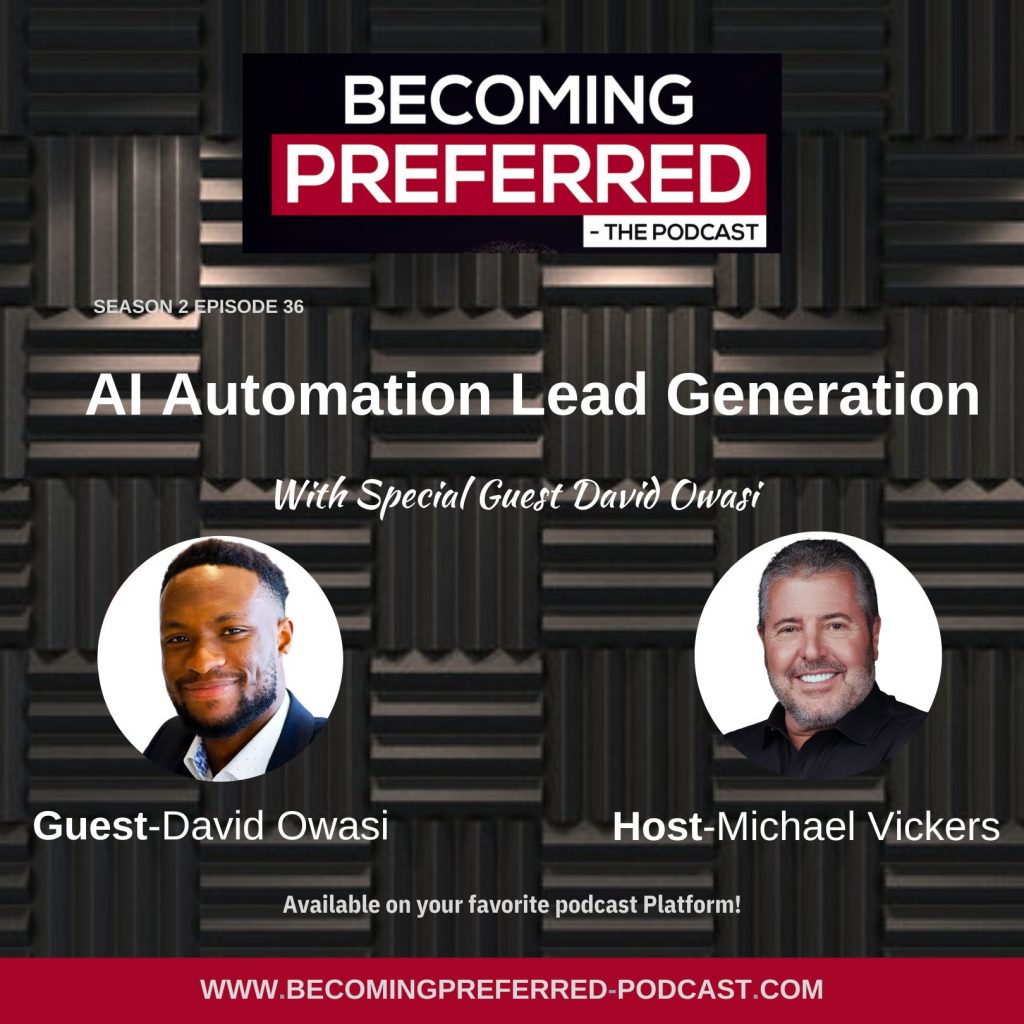 SEASON: 2 EPISODE: 36
Episode Overview:
The future of marketing, selling and business development is with Artificial Intelligence or AI. My guest, David Owasi, is a seasoned expert in leveraging innovative technologies for lead generation and business development.
With a deep understanding of the latest advancements in Artificial Intelligence (AI), David possesses the unique expertise to empower your business to unlock its full potential by harnessing cutting-edge AI tools that can help you automate repetitive tasks, streamline operations, and enhance productivity. With David's guidance, your business can tap into the immense power of AI to generate high-quality leads, optimize customer support, and achieve sustainable growth. Get ready to revolutionize your business and maximize profitability with my guest, David Owasi.
Guest Bio:
With a background in software and a track record of leveraging the most innovative technologies to generate high-quality leads while lowering acquisition costs for 7, 8 and 9-figure businesses, David has the unique expertise required to help your company realize its full potential and profit using a host of AI tools. With ACE Revealer, you'll be able to tear down the wall between you and your website and social media page visitors.
David is a growth marketer. His unique skillsets lie in the intersection of software development, AI and go-to-market strategy. He is passionate about personal development and building innovative marketing tools.
Resource Links:
Insight Gold Timestamps:
06:04 How do I do my marketing? How do I get my clients?
07:06 The cost of acquisition really dictates the profitability
08:38 The reason why AI is such a game changer….
10:16 ACE Website Revealer
12:11 How can I hijack some of that traffic for myself?
15:13 One of the ways we're able to use this technology
18:46 Social media is probably your best bet
20:33 I'll create a message just for you
24:03 What kind of benefit are we getting from the AI technology?
25:15 Automation is hand in hand with AI
27:53 Concerns around data privacy
28:41 How am I bringing value to people?
29:55 We are only limited by our imaginations
32:47 It really helps you to focus
34:07 What's a typical ROI they should expect?
37:02 Between 15 to 30% is what we're willing to spend to acquire a customer
39:56 Just help businesses maximize what they're already spending money on
Connect Socially:
LinkedIn: https://www.linkedin.com/in/davidowasi/
Facebook: https://www.facebook.com/owasidavid
YouTube: https://www.youtube.com/channel/UCrj7XFo_hwAVKvmptOQgVCQ
Instagram: https://www.instagram.com/davidowasi/
Threads: https://www.threads.net/@davidowasi
Email: david@aceyourbusinessacademy.com
Sponsors:
Rainmaker Digital Solutions: https://www.rainmakerdigitalsolutions.com/
Resources: https://becomingpreferred-podcast.com/resources/
Next Episode: Season 3! Episode 1! Three Sins of Selling: Don't Make These Mistakes and Ruin Your Sale with David Kurkjian!