Deborah Johnson – Create Your Ideal Work and Lifestyle!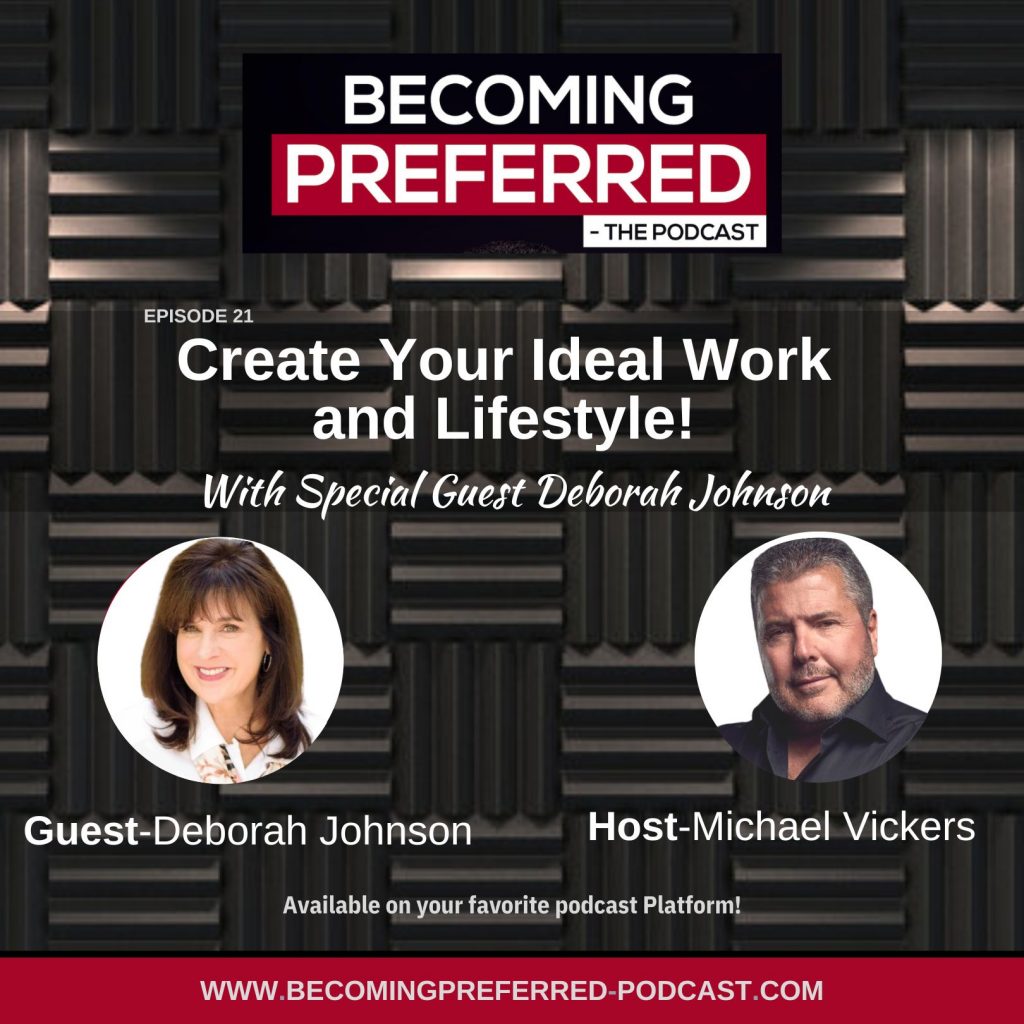 SEASON: 1 EPISODE: 21
Episode Overview:
Ready to supercharge your personal and professional life with tools for lifelong learning and possible change?
Are you mid-career or at the halftime of life wondering, "What's next?" Are you or your company experiencing a huge change, or lacking innovation & creativity? Don't spend another minute stuck on an endless roundabout.
If you want to hear a message of inspiration, hope and authentic growth, you're going to enjoy my interview with Deborah Johnson.
Guest Bio:
Deborah Johnson knows what it feels like to be stuck. She came from the gig economy while also raising 3 sons, so she's very familiar with reinvention. Deborah took a huge risk to put her solo headliner music show on large stages. None of her friends were doing anything like this, so it took getting beyond the self-doubt & wondering if she could really do it. And she did!!
But when the Great Recession of 2008-09 hit, many of her large music shows were cancelled, but she noticed that speakers were still working so she expanded her platform to also include speaking & writing with a process to help others maximize their skills, talents & resources. Deborah shares a message of inspiration, hope & authentic growth.
Inspirational speaker, author and international award-winning music artist, Deborah helps others get unstuck by producing and executing a successful plan for their second half. Up for multiple GRAMMY Awards and spending over 20 years in the entertainment industry, she's an expert on how to constantly reinvent yourself in a gig-economy. Deborah is the author of five books, and speaks and performs in both live and virtual events. She is also the past president of the National Speakers Association, Los Angeles.
Resource Links:
Insight Gold Timestamps:
08:03 You've got to get to a place where you take that risk
09:03 Be willing to re-write and work hard
10:05 The band of hope
16:43 The roundabout
19:43 Change I won't to I will
24:04 How could I have done that a little bit better?
27:29 Successfully evaluate where you are and where you want to be
29:51 Creativity is a way to progress and has no limits.
34:29 Clarify your purpose
Connect Socially:
LinkedIn: https://www.linkedin.com/in/deborahjjohnson/
Facebook: https://www.facebook.com/deborah.johnson
Twitter: https://twitter.com/debjohnsonworks
YouTube: https://www.youtube.com/c/DJWorks
Instagram: https://www.instagram.com/deborah_johnsonworks/
Email: Deborah@GoalsForYourLife.com
Podcast: http://womenathalftime.com/
Sponsors:
Rainmaker Digital Solutions: https://www.rainmakerdigitalsolutions.com/
Resources: https://becomingpreferred-podcast.com/resources/
Next Episode: Increase Your Team's Productivity and Results with Shawna Schuh!