Denise Galloni – Overcoming Obstacles to Find Your Voice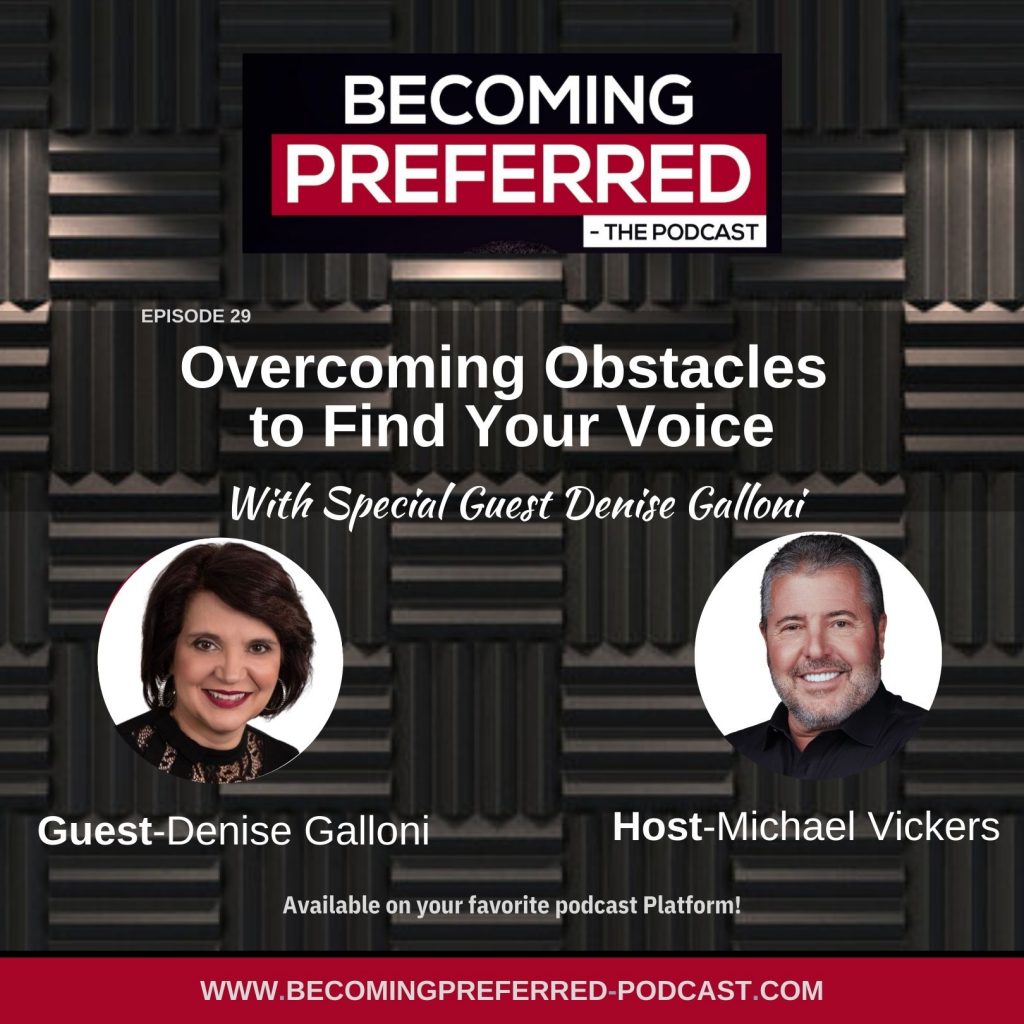 SEASON: 1 EPISODE: 29
Episode Overview:
If you're currently a leader in your organization or want to be a leader or a business owner, developing your leadership skills and focusing on what is important and how to prosper is always a priority.
My guest, author, speaker, and corporate consultant, Denise Galloni, is here to talk about how to find your voice, and the five keys to lead and empower others.
Guest Bio:
Denise Galloni started her own training consulting company called DG Training Solutions, Inc. Her company specializes in: Instructional Design, Facilitation, Instructor Led Training, Evaluations, and more. Denise has previous experience in the following industries: Healthcare (including EHR), Direct Sales, Retail, Non-Profit, Utility and Finance (including banking).
She is honored to be the creator, producer and host of a television show currently on BPTV called Empowering Women. In this show, Denise interviews women that share relative and important information to the audience to help empower and inspire them.
As the Education Representative for Advantage Credit Counseling, Denise was the instructor for over 175 financial management classes taught in 5 different counties. She conducted over 40 financial presentations for local non-profit organizations and assisted dislocated workers from over 12 companies through the agency's Surviving Unemployment presentation.
Resource Links:
Insight Gold Timestamps:
06:47 The problem does stem from communication
08:00 V is for Vision
11:40 How do you create a vision?
13:11 O is for Overcoming Obstacles
16:44 I is for Inspire
19:44 Why should I do this?
23:06 C is for Confidence
28:52 Negative language and negative self-talk
33:03 E is for Enthusiasm
Connect Socially:
LinkedIn: https://www.linkedin.com/in/deniseanngalloni/
Facebook: https://www.facebook.com/DGTrainingSolutionsInc
Facebook Business: https://www.facebook.com/empoweringyoubptv
Twitter: https://twitter.com/deniseanng
YouTube: https://www.youtube.com/channel/UCc7d1KUEIqZTUBlSzMSm9eA
Email: info@deniseanngalloni.com
Sponsors:
Rainmaker Digital Solutions: https://www.rainmakerdigitalsolutions.com/
Resources: https://becomingpreferred-podcast.com/resources/
Next Episode: Empower Your Team to Exceed Sales Goals and Maximize Profitability with Steve Hillis!