Eileen McDargh – The Energy Connection: A Secret to Resilient Work and Life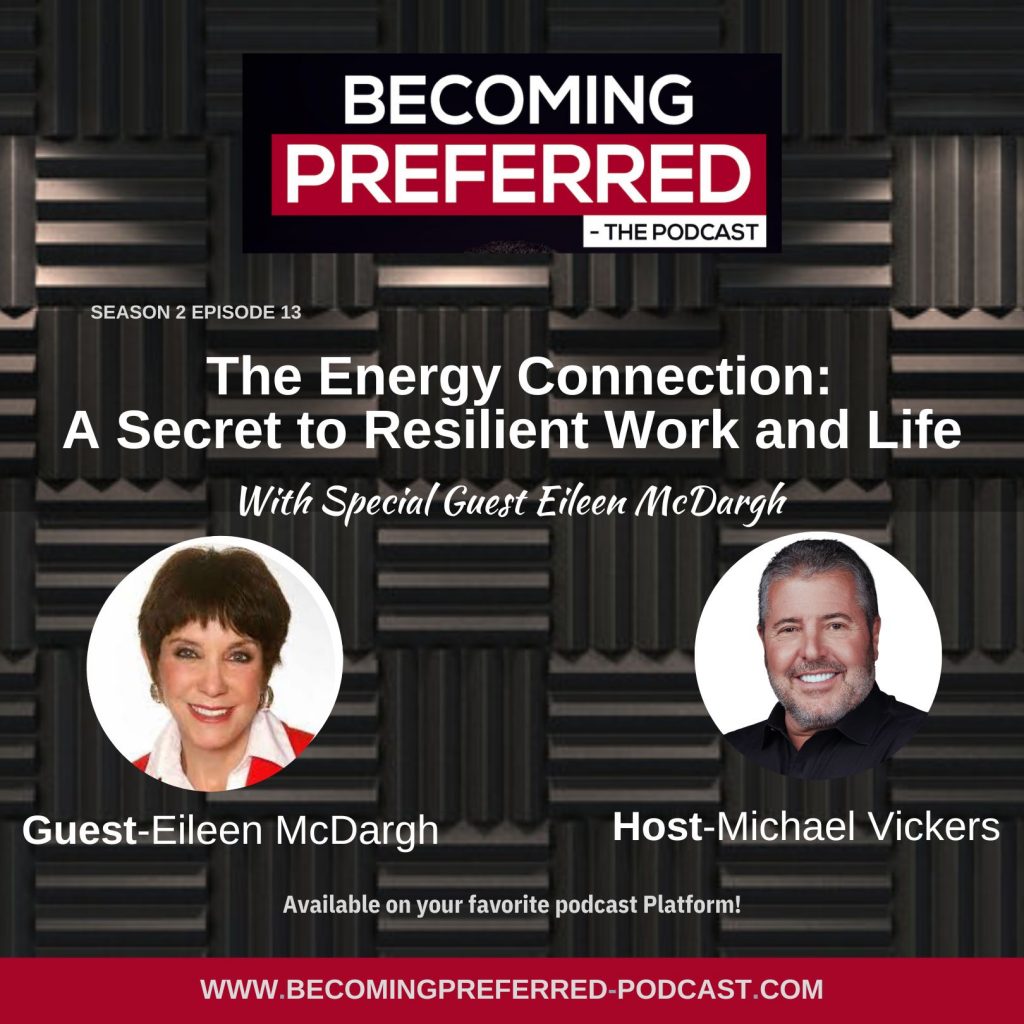 SEASON: 2 EPISODE: 13
Episode Overview:
From business leaders to rank and file workers, the competitive 24/7 world of heart stopping change has left many of us feeling in need of new tools to answer these questions: How do I engage more of my talent and that of the folks around me in meaningful work? What is the true meaning of the word resiliency, and how can I use it to my advantage?
And why does it seem that we compete more with each other than the competition? So, if you're ready to take control and take action, then you're going to enjoy my conversation with award-winning author and internationally recognized speaker and coach, Eileen McDargh.
Guest Bio:
Since 1980, Eileen McDargh has helped organizations and individuals transform the life of their business and the business of their life through conversations that matter and connections that count. She has become known as a master facilitator, an award-winning author, and an internationally recognized keynoter and executive coach.
She draws upon practical business know-how, life's experiences and years of consulting to major national and international organizations that have ranged from global pharmaceuticals to the US Armed Forces, from health care associations to religious institutions. Her programs are content rich, interactive, provocative and playful—even downright hilarious.
For the past four years, Global Gurus International, a British-based provider of resources for leadership, communication and sales training, also ranked her in the top five as one of the World's Top 30 Communication Professionals following a global survey of 22,000 business professionals.
Resource Links:
Insight Gold Timestamps:
01:50 Just because you're good at something doesn't mean it's the thing that calls your heart
03:07 What does burnout mean?
05:11 Resilience is a life skill
05:56 Start with gratitude
08:10 Burnout
09:50 We look sometimes for more, more instead of better, better
12:48 Four critical skills for building effective resilience
14:26 Agility is speed, speed coupled with wisdom
18:07 What can we do to bring more humor into our world?
22:14 Self care
25:20 We should stop striving for balance
29:00 Control the controllable
Connect Socially:
LinkedIn: http://www.linkedin.com/in/eileenmcdargh
Facebook: https://www.facebook.com/speakereileen/
Twitter: https://twitter.com/macdarling
YouTube: http://www.youtube.com/channel/UCY_-mPYU2kaF0l0-Jn3X34g?sub_confirmation=1
Email: eileen@eileenmcdargh.com
Sponsors:
Rainmaker Digital Solutions: https://www.rainmakerdigitalsolutions.com/
Resources: https://becomingpreferred-podcast.com/resources/
Next Episode: If You Want to Lead in Business, the Customer Comes First with Greg Kihlstrom!