Eric Collier – Getting Unstuck from Mental Quicksand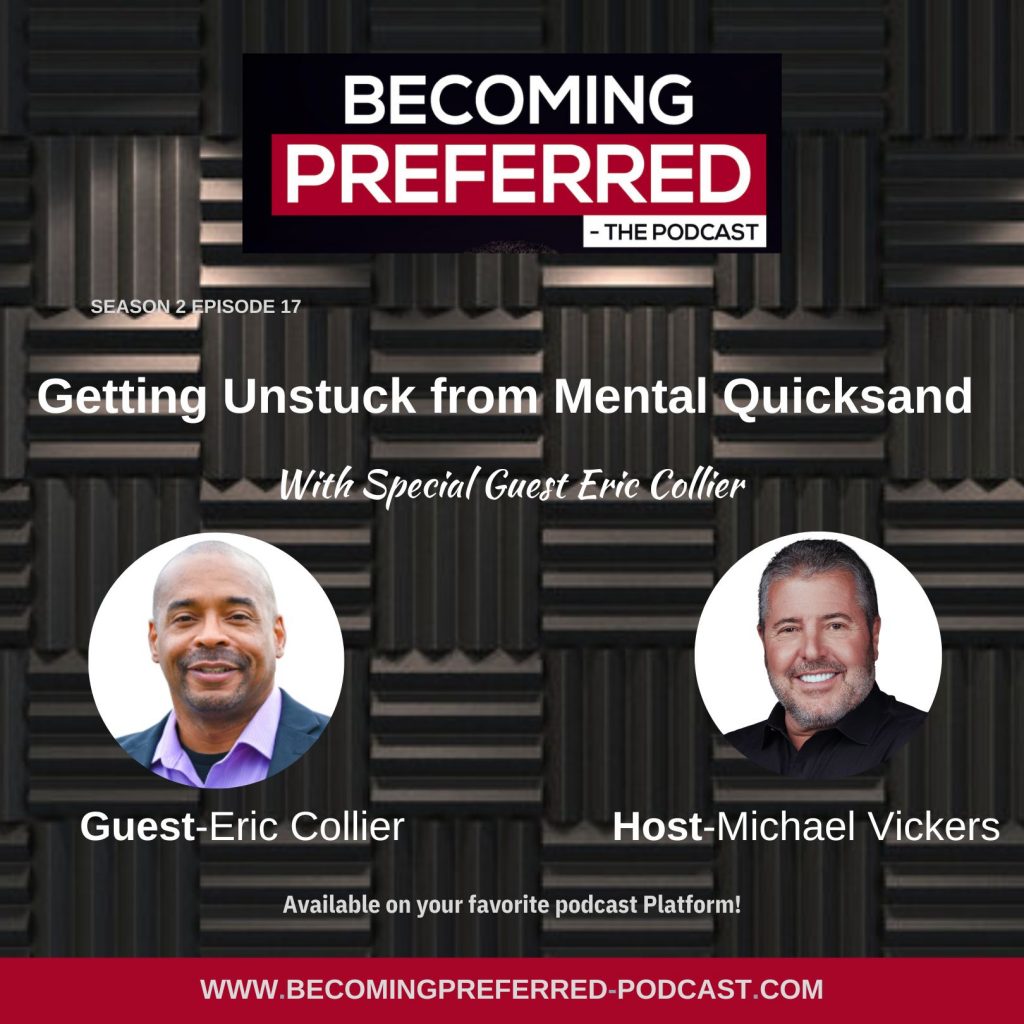 SEASON: 2 EPISODE: 17
Episode Overview:
Do you ever feel stuck and feel like you're sinking into mental quicksand? Does it often feel like you're on a hamster wheel, doing the same thing every day and getting nowhere?
To help us understand how we can maintain our motivation, live more consciously, and continue our journey to our long-term goals, is "The Mayor of Motivation", Eric Collier.
Guest Bio:
Delivering a high-energy, high-impact message, Eric Collier "The Mayor of Motivation", authentically inspires audiences to break through mental barriers and overcome rising challenges so they can improve performance, increase productivity, and ultimately create a new reality.
As a Veteran and Certified Facilitator specializing Performance Improvement, Eric has dedicated his life to elevating others, spending the last 18 years as a mentor and coach, helping students, teachers, athletes, veterans, speakers, and career professionals overcome life's mental barriers to success through identifying solutions to increasing challenge and elevating productivity while uncovering their true potential.
Eric is an accredited speaker having the privilege of training and gaining continued mentorship with world-renowned speaking legend Les Brown has provided solid guidance in delivering a powerful message that has circulated and connected with audiences in over 20 countries, helping change and shift the lives of thousands.
Along with being an international best-selling co-author and podcast co-host, Eric has elevated his presence within the speaking industry, sharing National and Global Stages with:
● World Renowned Motivational Speaker Les Brown
● High-Performance Coach Jon Talarico
● Media Specialist Dr. Drew Pinksky
● Speaker/Classical Pianist Jade Simmons
● FAA Deputy Administrator Bradley Mims
● TEDx Expert Corey Poirier
● Conversations with Eric and Stephen Podcast
Eric loves connecting and collaborating with community leaders in creating inspiring events, leaving an everlasting imprint on the future generation as a continued resource for personal growth and a guiding outlet for those on the rise.
C. Eric Collier, Keynote Speaker, Mental Quicksand Expert, 2x International Bestselling Co-Author, Veteran, and Mentor
Resource Links:
Insight Gold Timestamps:
04:12 It's all about commitment
06:53 What happens when you keep swinging?
07:51 Confidence is built
10:13 Cliche…if a man can see it, they can start believing it
12:43 That talk that you have with yourself on a daily basis
15:52 Reviewing your game film
18:11 A man had this monster
20:04 How can we maintain motivation to work towards those long-term goals?
22:03 How do we start to change that inner voice?
23:34 You can't play at a level 10 if you haven't walked through level 1, 2, 3, 4, 5, 6 7, 8, and 9
25:07 The more you get people to really open up….
27:13 The worst thing you can do….
30:39 Food always tastes best when you're hungry
31:26 I have to actually quit talking about it and actually BE about it
32:25 I consider myself under construction for life
34:42 There's no straight path to success
36:55 It's all about how you look at things
Connect Socially:
LinkedIn: Linkedin.com/in/c-eric-collier-motivational-speaker
Facebook: https://www.facebook.com/1MomentumShift/
YouTube: youtube.com/channel/UCgzF3SXgLgioG5yACdZpJcg/featured
Instagram: https://www.instagram.com/cericcollier/
TikTok: https://www.tiktok.com/@cericcollier
Podcast: https://pod.co/conversations-with-eric-stephen
Hoinser Media Group: Hoinser Media Group's "Top 50" Powerful Men 2022
Email: ericc.1momentumshift@gmail.com
Sponsors:
Rainmaker Digital Solutions: https://www.rainmakerdigitalsolutions.com/
Resources: https://becomingpreferred-podcast.com/resources/
Next Episode: The Art of the Schmooze with Cody Lowry!