Frank King – Landing and Leveraging a TEDx Talk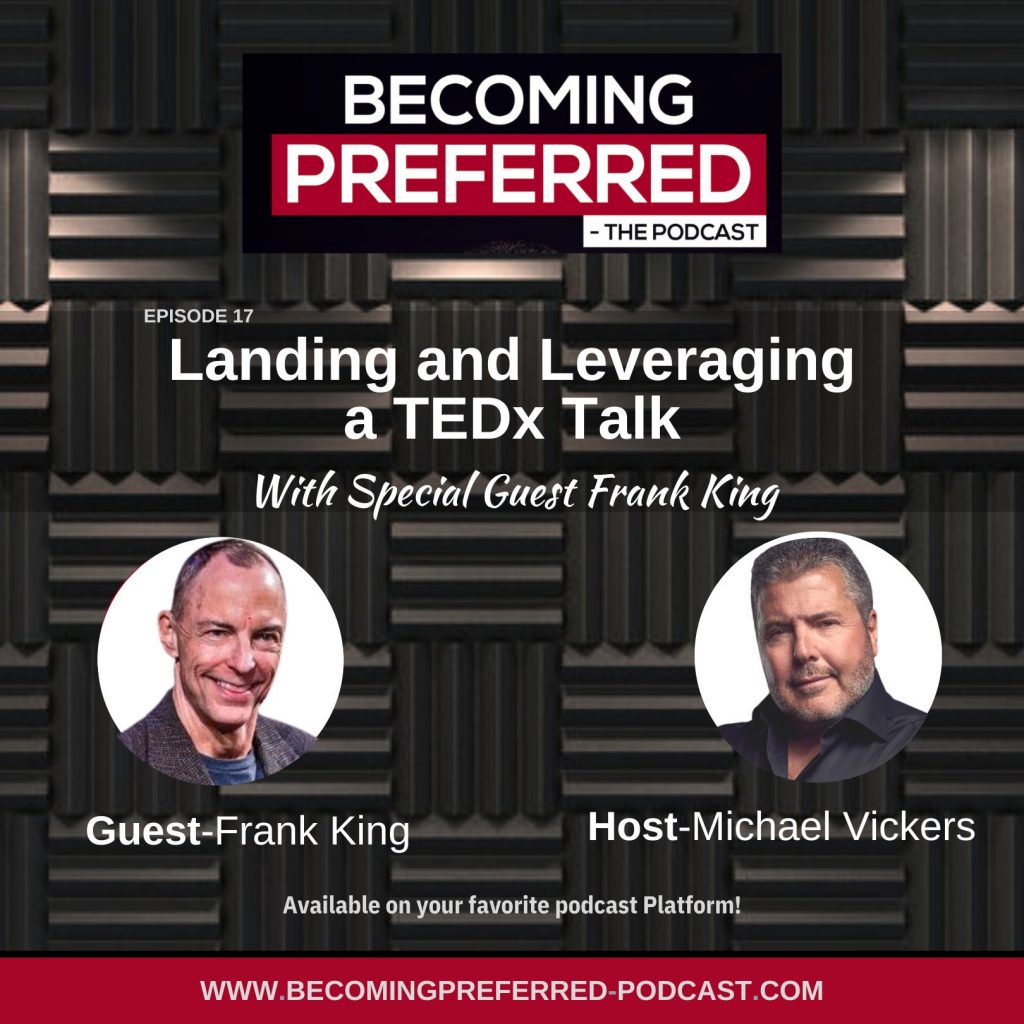 SEASON: 1 EPISODE: 17
Episode Overview:
Looking to take your career to the next level? Establish credibility and become preferred in your market? Want to accelerate your results by becoming a recognized thought-leader and sought after expert? Getting, crafting, and delivering a TEDx Talk just might be what you're looking for. To help us understand the recipe for landing a TEDx Talk, and he's done it 7 times, is professional speaker, coach and comedian, Frank King.
Guest Bio:
In 2016 Frank King began coaching potential TEDx Talkers, when a number of his speaker coaching clients approached him and asked if he would coach them on scoring a TEDx Talk opportunity. Since then, dozens of his clients have done their first TEDx Talk, several have done two, and one has done three!
Frank King was a writer for the Tonight Show for 20 years, and he holds the record for the longest non-stop comedy club road trip ever. Beginning the day after Christmas in 1985, he and his wife (who must have the patience of Job) were on the road 2,629 nights in a row, comedy club to comedy club with no home, just a PO Box and voice mail.
He shared the stage with Jerry Seinfeld, Jeff Foxworthy, Ron White, Adam Sandler, Dennis Miller, Ellen DeGeneres, Rosie O'Donnell, Dr. Ken Joeng, Rita Sirleaf and Kevin James, among others.
Since becoming a public speaker on Suicide Prevention in 2014, Frank has done 7 TEDx Talks.
Resource Links:
Insight Gold Timestamps:
16:28 TEDx talks have a structure to them
16:57 Some messes and stresses
17:54 You don't pay to do a TEDx. That's the good news
18:08 The difference between a TED and a TEDx
19:29 Catching their attention is the first hurdle to get over
20:54 Mistakes people make when applying to do a TEDx talk
22:24 It's a marketing pitch to the TEDx selection committee
23:43 Passion is very important
27:55 The riches are in the niches
31:49 Land and leverage a TEDx talk and speaker marketing
Connect Socially:
LinkedIn: https://www.linkedin.com/in/frankkingthemhcomedian
Facebook: http://www.facebook.com/thementalhealthcomedian
Twitter: http://www.twitter.com/theMHcomedian
YouTube: https://www.youtube.com/thementalhealthcomedian
Instagram: http://www.instagram.com/mentalhealthcomedian
Corporate Bureau Sizzle Reel: https://vimeo.com/732175641
Email: frank@yourtedxcoach.com
Sponsors:
Rainmaker Digital Solutions: https://www.rainmakerdigitalsolutions.com/
Resources: https://becomingpreferred-podcast.com/resources/
Next Episode: Significant Leadership….It Starts with You with Lauren Schieffer!