Jenny Harkleroad – 17 Seconds to Wellness and Success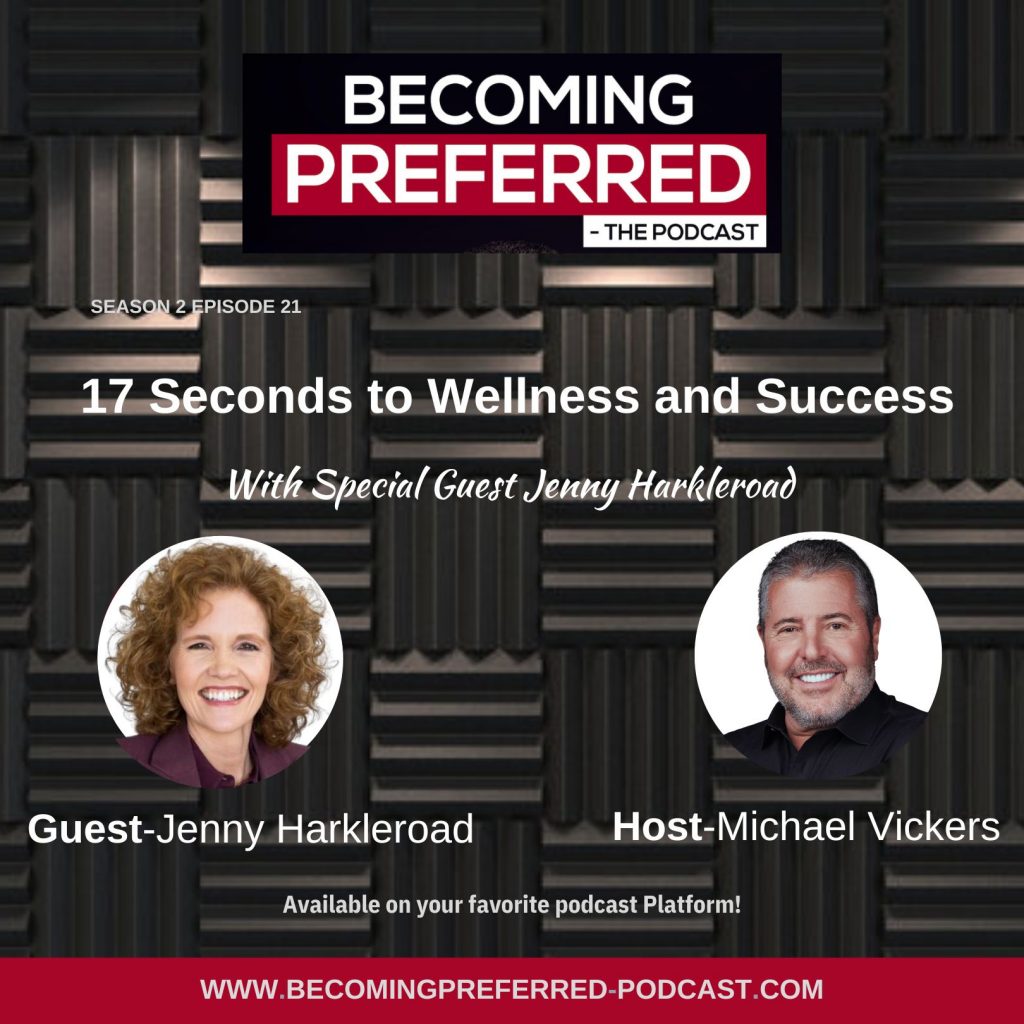 SEASON: 2 EPISODE: 21
Episode Overview:
Most of us are making decisions driven by unconscious programming and we don't even realize it. We can try to work harder, push through and hustle to reach our goals, but what if we could get our subconscious mind on board to achieve success more quickly and easily?
My guest, Jenny Harkleroad, says it's not only possible, but much closer than we think. Join me now for my conversation with author, speaker and mind change teacher, Jenny Harkleroad.
Guest Bio:
Jenny Harkleroad is an author, speaker and mind change teacher. She's a mother of 4 which is her greatest claim to fame! Jenny is a big-hearted entrepreneur and business leader. She built a business in San Diego, where she grew up and lives.
With the power of the mind, Jenny overcame her past of chronic pain, addictions, bad relationships, and unhappiness. She never knew how sweet life could be until she changed her mind and that changed everything. Jenny has a dramatic story to share, breaking her back on a mountain cliff. That event changed everything and gave her a ferocious appetite to transform lives and help others create what's missing in their lives.
Jenny and her Balanced You™ team help others to transform their success, health and wellness, relationships, and business success so that they can bask in the love of life every day and accomplish their goals of health, wealth, and happiness.
Resource Links:
Insight Gold Timestamps:
04:11 So now I'm stuck in bed thinking about all the things I don't like about my life
09:26 It's the tension in your body from your past
11:04 The 17 second rule
13:05 Catch and kill
16:02 Psychologists say you have 50 to 80,000 thoughts per day. 80% negative 90%
20:22 First deciding, what do you even want?
21:07 Your subconscious is either supporting you or sabotaging you in every area of your life
26:29 The statement that really changed everything for me….
28:10 An untrained brain….a bad puppy
31:38 The first step is just asking yourself what you want different in your life
33:25 Positive affirmations are conscious
33:50 In the book, Atomic Habits by James Clear….
38:30 If you're confident, it makes it so much more enjoyable
Connect Socially:
LinkedIn: https://www.linkedin.com/company/balancedyou/
Facebook: https://www.facebook.com/BalancedYouByJenny
Twitter: https://twitter.com/you_balanced
YouTube: https://www.youtube.com/@BalancedYou
Instagram: https://www.instagram.com/jennyharkleroad/
Blogs & Podcasts: https://balancedyou.org/blogs-podcasts/
Clip about Weight Loss: https://balancedyou.org/the-weight-loss-secret-revealed/
Email: Jenny@BalancedYou.org
Sponsors:
Rainmaker Digital Solutions: https://www.rainmakerdigitalsolutions.com/
Resources: https://becomingpreferred-podcast.com/resources/
Next Episode: Self Publishing, Storytelling, and High Performance with D Arlando Fortune!