Jillian Kruschell – Get the Edge with Diversity, Equity & Inclusion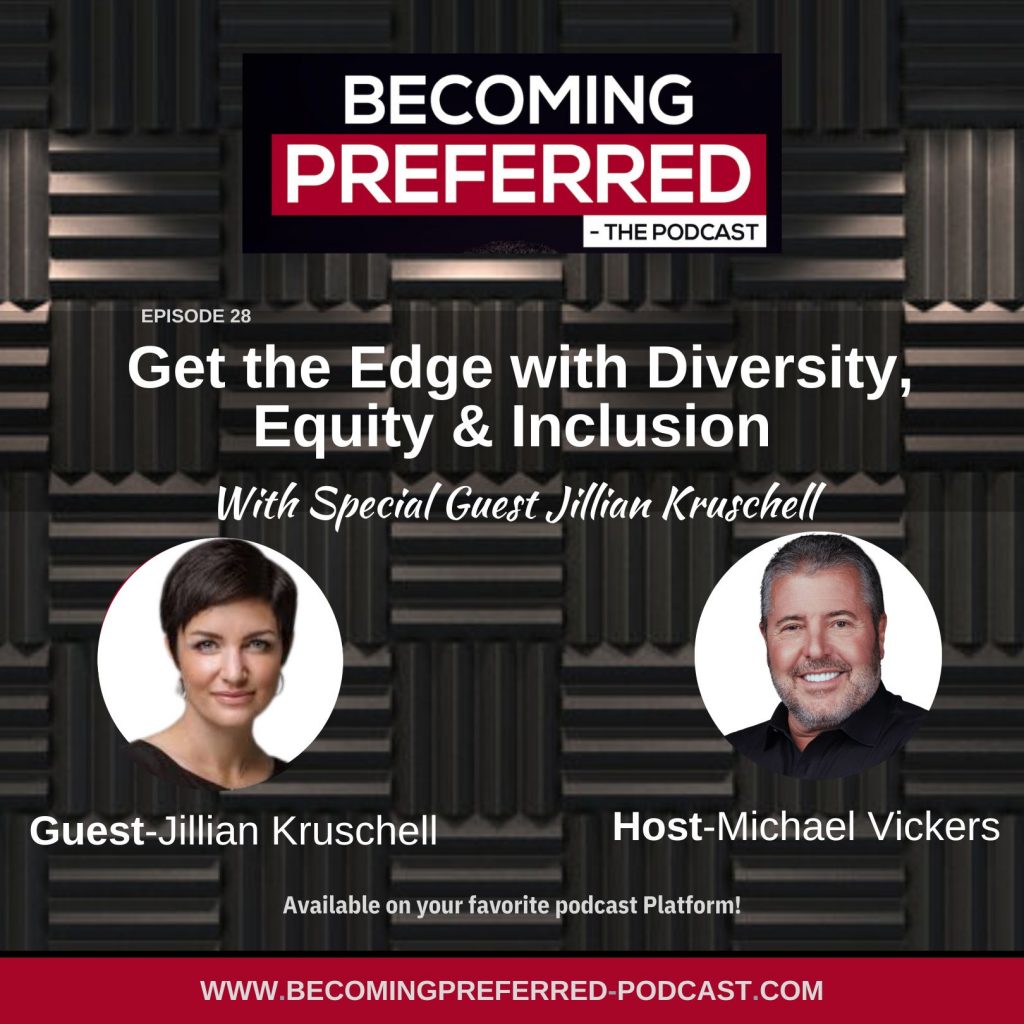 SEASON: 1 EPISODE: 28
Episode Overview:
If you really want to hire the 'best person for the job' you need to make sure you're attracting the largest pool of candidates for the right reasons and evaluating their skills, competencies and experience independent of bias.
To create or build an organization centered around inclusivity, where employees can show up authentically, access opportunities equally, and be empowered to realize their potential in a safe and respectful environment, diversity, equity and inclusion should be a priority.
To help us understand how a DEI strategy can give us a competitive advantage is my guest, Jillian Kruschell.
Guest Bio:
A seasoned female leader, Jillian has extensive experience working with a full spectrum of organizations from small businesses to internationally-recognized brands. At Inclusion by Libra, Jillian leads a team who work with organizations to integrate diversity, equity, inclusion and belonging into business strategy. Libra specializes in working with young companies, and brings a DEI lens to the professionalization of small business by creating policies and procedures rooted in employee well being.
Drawing on a Bachelor's in Management alongside 13 years of experience in fast-growing companies, Jillian combines a nimble approach to strategy, process design and project management with a passion for delivering excellent customer service.
As founder and CEO, Jillian brings a personalized touch to business. She works closely with clients to tailor solutions to their unique needs and ensure the consistent and dependable provision of high quality results.
Resource Links:
Insight Gold Timestamps:
03:41 Diversity is a fact of the world we live in
09:37 If your staff feels safe and valued
12:22 Focus on the business case
18:34 Three phases you can consider
19:24 It's something you can't just do once
24:16 Anonymizing the screening process
28:36 You need to take an empathetic lens
30:30 Four step framework: Evaluate, Execute, Educate, Empower
Connect Socially:
LinkedIn: https://www.linkedin.com/in/jilliankruschell/
Instagram: https://www.instagram.com/inclusionbylibra/
Email: jillian@inclusionbylibra.com
Sponsors:
Rainmaker Digital Solutions: https://www.rainmakerdigitalsolutions.com/
Resources: https://becomingpreferred-podcast.com/resources/
Next Episode: Overcoming Obstacles to Find Your Voice with Denise Galloni!