Larry Jacobson – Proven Trust-Building Process to Create Instant Rapport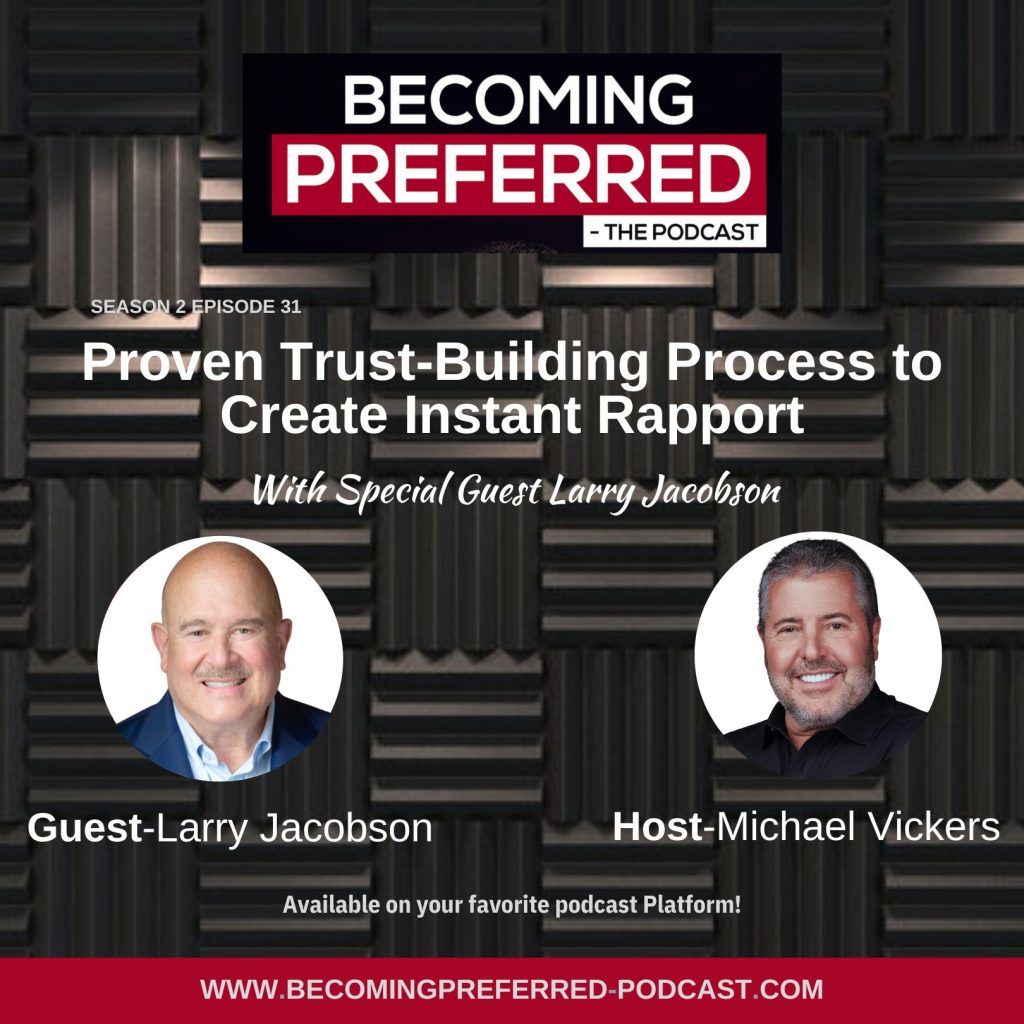 SEASON: 2 EPISODE: 31
Episode Overview:
Trust is the foundation of all relationships. My guest today will share his proven trust-building process to help you create instant rapport quickly and establish long-lasting relationships personally and professionally.
You'll learn practical strategies and insights that you can apply immediately to build trust and confidence in any relationship. So, get ready to take notes and learn from one of the best in the business. Join me for my conversation with Larry Jacobson.
Guest Bio:
Since his professional training at the MBA Program at the Booth School at the University of Chicago and the Georgetown University Law Center, Larry has been engaging in trust building, conflict resolution, negotiation and change management techniques for over 40 years. First as a partner in a large Chicago-based law firm and for the last seven years as a consultant who negotiates the sale of dental specialty practices with OMS Exclusively.
Both as an attorney and as a consultant, Larry has over 100,000 hours of representing clients and negotiating deals with people around the world. Larry has mastered the techniques of how to build trust, rapport and successful negotiation outcomes in a wide array of situations and with a wide variety of personality types.
Larry has extensive training at Harvard Law School in the areas of complex negotiations and conflict resolution. Larry coaches and consults with professionals on the interpersonal aspects of their job; building trust with clients and colleagues, resolving conflicts successfully, selling to prospective clients, referrals and other important constituents, and managing relationships with those they work with.
Resource Links:
Insight Gold Timestamps:
03:34 You take them as you find them
06:15 If you start the process by saying, how can I help?
08:12 Rapport is incredibly important
08:52 Listen, follow up and show empathy
11:46 Are you willing to go to war with me?
14:01 Something as simple as, thanks for coming in
16:32 Trust has to be earned
19:01 How do we monitor how we're coming across?
20:12 The nonverbal cues can be as important, if not more important than the verbal cues,
22:43 One of the things that shows quiet confidence
26:08 We show the vulnerability
30:49 Patience is generally not something that most professionals or senior managers have
31:52 Four key elements of Insta-Trust
36:50 Find the gap
Connect Socially:
LinkedIn: https://www.linkedin.com/in/dr-Larry-Jacobson
Twitter: https://twitter.com/doctorlj
Free e-book: https://protrustconsulting.com/
Email: drlarryjacobson@gmail.com
Sponsors:
Rainmaker Digital Solutions: https://www.rainmakerdigitalsolutions.com/
Resources: https://becomingpreferred-podcast.com/resources/
Next Episode: Entrepreneurship, Marketing, and Real Estate with Jessica Zeitz!