Lauren Schieffer – Significant Leadership….It Starts with You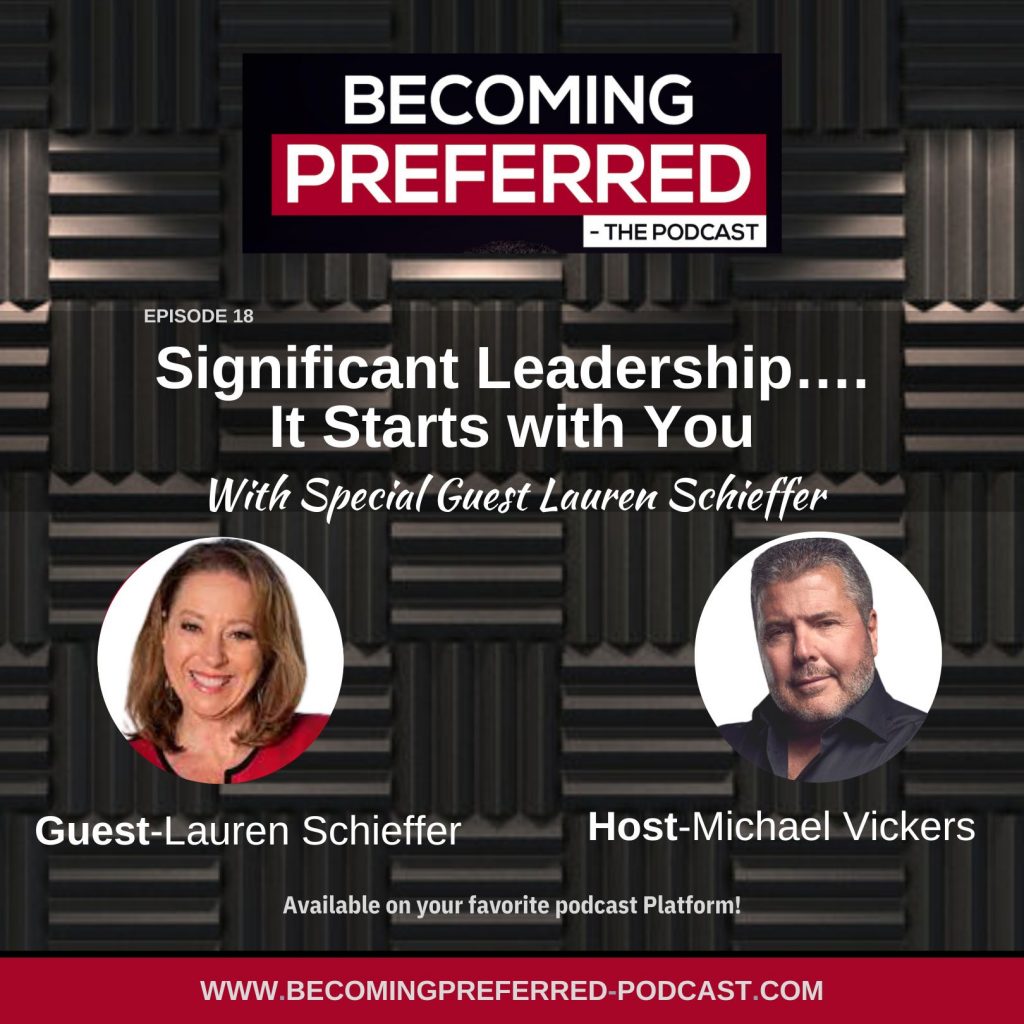 SEASON: 1 EPISODE: 18
Episode Overview:
As we head into the third decade of the 21st Century, facing an enduring pandemic, a weakened economy and nasty political divisions, the need for significant leadership has never been more acute. The generic, efficiency leadership model of the 20th Century will not guide companies, the nation, or the world out of the current plight, because to a very large extent, efficiency leadership is what led to the situation in the first place. To help us understand how leadership needs to evolve is my guest..Lauren Schieffer.
Guest Bio:
As the daughter of a career Air Force officer, Lauren grew up being uprooted and relocated every couple of years. This imbued her with a profound independence and ability to adapt to changing circumstances, continually learning to adapt to new stations and new people. The lessons she learned from her dad, "The Colonel" helped her make smart decisions and overcome adversity with humility and a sense of humor.
In her varied career, Lauren has navigated just about every aspect of corporate America – from trucking to achieving top-tier Sales Director status for a global cosmetics firm to managing a non-profit foundation. Since she began building her own company, she has had the privilege to speak in seven countries to associations, organizations, federal, state and local governments, as well as Fortune 500 companies – helping them transcend mere success to achieve true significance, to improve the effectiveness of their communication, increase productivity, increase employee engagement and reduce unnecessary drama.
Lauren has shown thousands of people how to expand their comfort zones and dump their own drama. The combination of her personal and professional journeys has brought Lauren to a unique place where she can guide others – women, men, executives, managers, employees and entrepreneurs alike – in their quest for significance, passing through good to grasp great; passing beyond survival into triumph.
And she also makes sure to have some fun along the way— because if you can't have a little fun along the road, why travel it at all?
Resource Links:
Insight Gold Timestamps:
04:35 Choose to be significant
05:06 How we impact others is a choice
08:02 Nine essentials of significance
10:27 Integrity is doing what is right, because it's right. Every time! Whether anyone is looking or not
14:45 Bosses too often fall into a Cliff Clavin Syndrome
16:58 Say what you mean….
19:25 There's only three ways to lead. Number one is by example. Number two is by example. Number three is by example
23:10 Celebrate the results of others
Connect Socially:
LinkedIn: https://www.linkedin.com/in/laurenannschieffer/
Facebook: https://www.facebook.com/profile.php?id=100063335401264
Twitter: https://twitter.com/LSchiefferCSP
YouTube: https://www.youtube.com/channel/UCLRuzLkApRfy5G5XPieEwow
Instagram: https://www.instagram.com/laurenschieffer/
Email: lauren@laurenschieffer.com
Sponsors:
Rainmaker Digital Solutions: https://www.rainmakerdigitalsolutions.com/
Resources: https://becomingpreferred-podcast.com/resources/
Next Episode: Become Preferred Through Collaboration with Michael Gregory!