Michelle Dickinson – Mental Health in the Workplace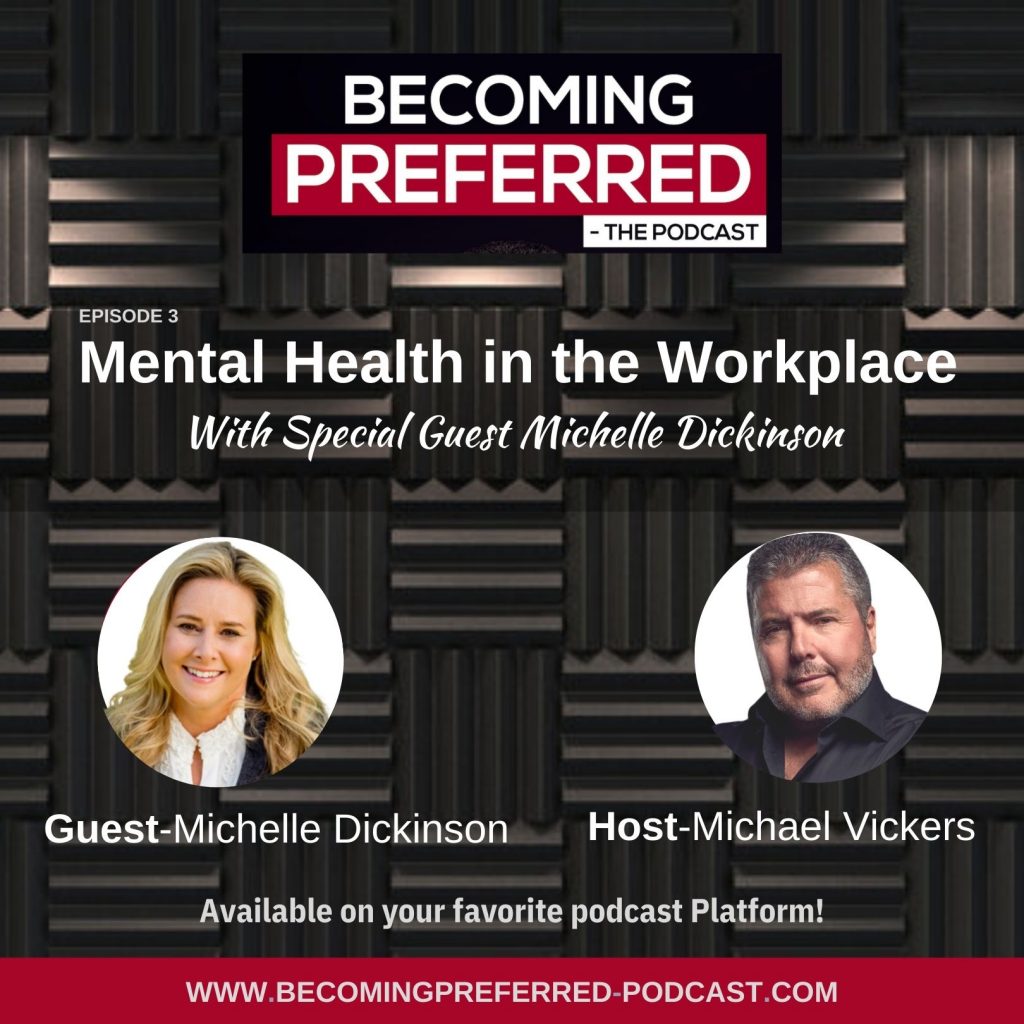 SEASON: 1 EPISODE: 3
Episode Overview:
Feeling overwhelmed and need a little help? When it comes to mental health in the workplace, people are still reluctant to divulge their issues. In a recent survey, 68% of business professionals worried that reaching out about a mental health issue could negatively impact their job security. Although 50 percent of employees (and 60 percent of Millennial employees) reported having had a mental health lapse, only one-third of those employees reached out to their employers. In this episode Mental Health author, Ted Talk speaker and advocate Michelle Dickinson shares some insights on how businesses can remove the stigma and shame that comes from invisible disabilities. Join me now for my conversation with Michelle.
Guest Bio:
Michelle works to normalize the mental health narrative in the workplace and prevent employee burnout by teaching resilience and mental well-being workshops. She helps leaders gain the confidence to reach out and support their staff if they sense they may be suffering. She has empowered thousands of employees with her resiliency workshops throughout the pandemic.
Michelle is a Workplace Mental Health Strategist & Consultant and a TED Talk Speaker and a published author of her memoir "Breaking Into My Life – Growing Up with a Bipolar Parent and My Battle to Reclaim Myself". Because she has worked in the corporate space for over 19 years, suffered from depression herself, and spent her childhood and young adult life caring for her bipolar mother, Michelle gets it! And she knows first-hand what it is like to navigate a mental health imbalance.
Michelle specializes in helping organizations increase inclusion, presentee-ism, and retention while decreasing employee downtime by cultivating a culture of compassion in the workplace.
Resource Links:
Insight Gold Timestamps:
06:04 Sobering statistics
11:49 The brain is just another organ
25:50 We have to protect our minds
31:31 Coming out of the pandemic
33:57 A gratitude practice
39:32 Digital detox
Connect Socially:
LinkedIn: https://www.linkedin.com/in/michelle-e-dickinson-mm-🧠♥%EF%B8%8F-7882013/
Facebook: https://www.facebook.com/michelle.dickinson.146?ref=bookmarks
Instagram: https://www.instagram.com/michelledickinson71/
Twitter: https://twitter.com/mdickinson13
YouTube: https://www.youtube.com/c/MichelleDickinson-MCTM/videos
Email: MichelleEvDickinson@gmail.com
Sponsors:
Rainmaker Digital Solutions: https://www.rainmakerdigitalsolutions.com/
Resources: https://becomingpreferred-podcast.com/resources/
Next Episode: Connecting and Communicating in a Multi-Generational Workplace with Kit Welchlin!