Michael Gregory – Become Preferred Through Collaboration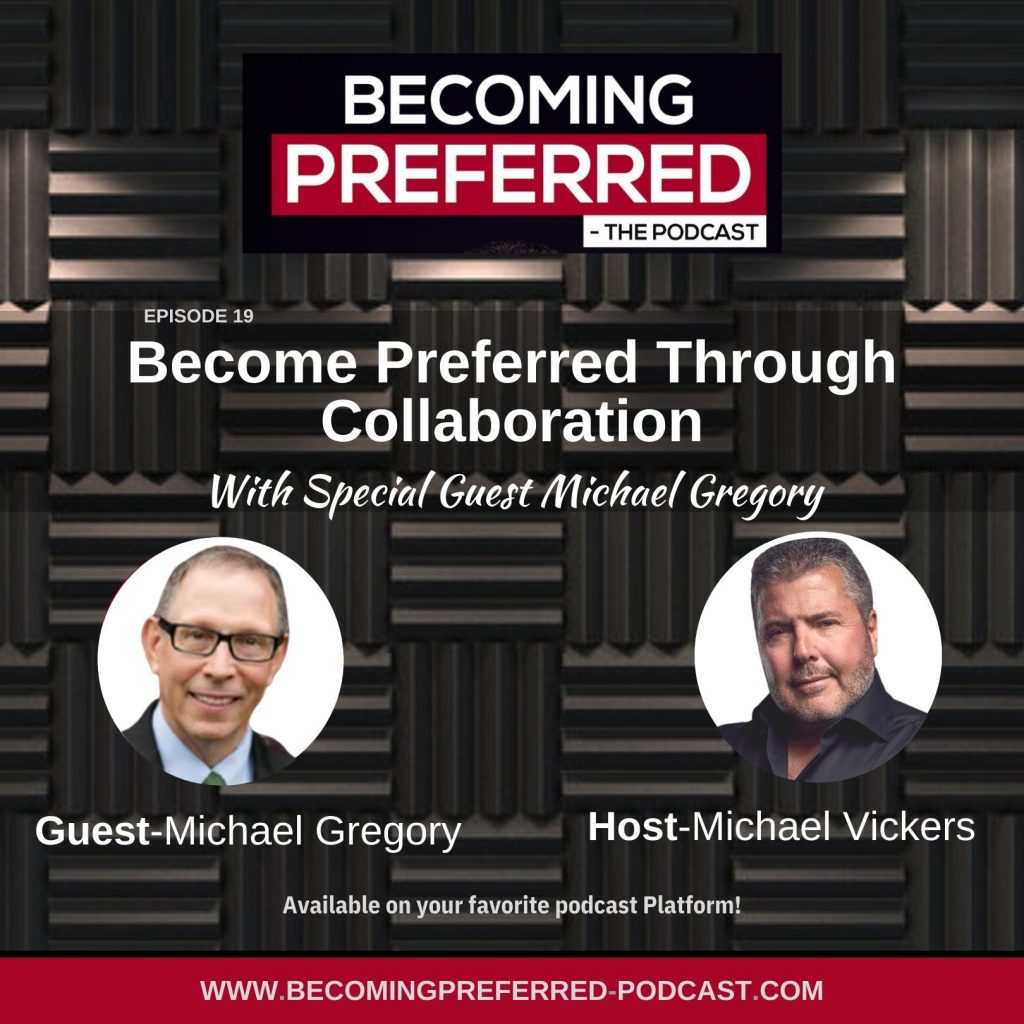 SEASON: 1 EPISODE: 19
Episode Overview:
Is conflict hampering your results? This episode will show you how to focus on the tasks at hand, provide you with confidence when navigating difficult situations, and gain peace in your professional and personal relationships. The Collaboration Effect will give you the framework you need for active listening, connecting with others, and negotiating closure even with difficult people. After listening to this episode with our guest, Michael Gregory, you will take actions to overcome tough situations and enhance collaboration with others.
Guest Bio:
Michael Gregory is the founder of Michael Gregory Consulting, LLC. Mike is an international speaker, author, and consultant who helps clients identify, address and resolve issues with the IRS, business to business, and within businesses (shareholder disputes, succession planning) so that they can take advantage of The Collaboration Effect™. He has helped hundreds of clients work through conflicts and negotiate winning solutions.
Mike has helped hundreds of clients resolve conflicts and negotiate winning solutions business to government (IRS), business to business and within businesses.
Accredited Senior Appraiser in Business Valuation with the American Society of Appraisers
Certified Valuation Analyst with National Association of Certified Valuators and Analysts
Qualified Mediator with the Minnesota Supreme Court
Resource Links:
Insight Gold Timestamps:
01:53 If we collaborate with each other we can get things done
09:43 Being heard is very significant
18:09 It's either reducing the pain or increasing the gain
21:35 The sooner we can begin to relate to each other and with whatever we have in connections, (social media) the better that relationship going forward
25:59 What have you been thinking about lately?
25:12 My favorite question is what would you like to have happened?
26:50 Know what you want. Ask for it. Have three reasons why it's beneficial for them. (Author, John Baker)
27:51 Organizations should choose collaboration over competition
31:52 When you have folks operating as a team and you're aligned in business, you will be successful
38:37 What are some things that you have done with others in this last year to make an impact?
41:07 It's not about me, it's all about we, but we starts with me
Connect Socially:
LinkedIn: https://www.linkedin.com/in/mikegregconsult/
Facebook: https://www.facebook.com/michaelgregoryconsultingllc/
Twitter: https://twitter.com/mikegregconsult
YouTube: https://www.youtube.com/channel/UCmhQ3z8hhsXTAHuqlfn1mdw
Email: mg@mikegreg.com
Sponsors:
Rainmaker Digital Solutions: https://www.rainmakerdigitalsolutions.com/
Resources: https://becomingpreferred-podcast.com/resources/
Next Episode: Suicide Prevention….Start the Conversation with Frank King!