Renée Marino – Communicate with Confidence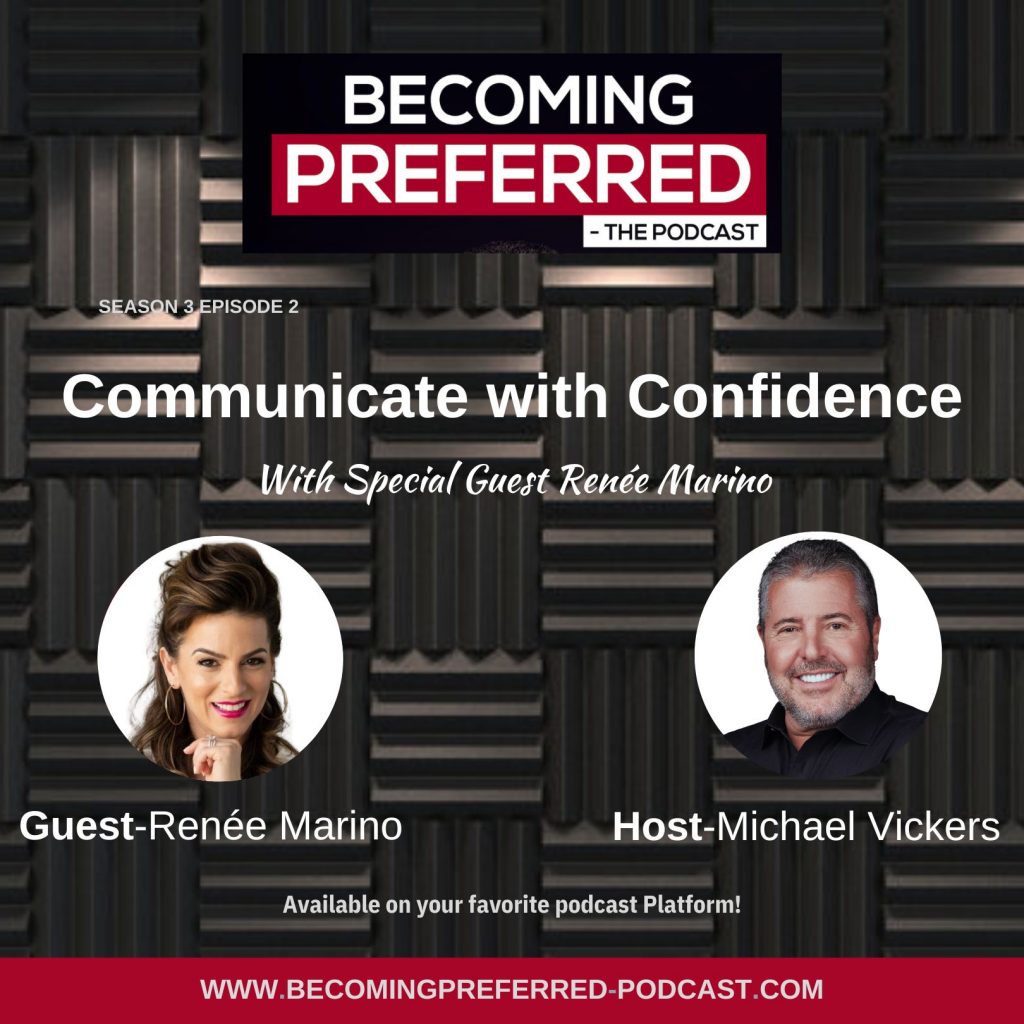 SEASON: 3 EPISODE: 2
Episode Overview:
Everything begins with communication, so learning to master this skill can open up limitless opportunities. Most people don't consider themselves good communicators. It's a fact that deliberate, confident, and results-driven communication is the cornerstone to a successful business, meaningful relationships, and an abundant life.
My next guest has made it her obsession to help everyday people master communication with simple processes and tools. If you strive for higher purpose or success, then you are going to enjoy my conversation with bestselling author, coach, speaker, and film actress, Renée Marino.
Guest Bio:
Renée Marino is a professional communication coach, TEDx speaker, and best-selling author named by Yahoo Finance as one of the "Top 10 Communication Coaches to Follow in 2021!"
Renée helps business professionals effectively communicate with confidence through simple and easy tools. Her best-selling book, Becoming a Master Communicator, endorsed by Bryan Adams, Dean Graziosi, Chazz Palminteri, Russell Brunson, Jenna Kutcher, and Dhomonique Murphy, is a powerful guide for those struggling to have clear and honest communication in a world driven by digital technology.
Renée was the co-host of Tony Robbins and Dean Graziosi's "World Summit" and a featured speaker at the 2022 "Secret Knock Women" event. Renée Marino's mission is to empower us to make authentic communication a priority by understanding that:
"Everything starts with Communication, and when we learn to Master this Skill, we become Limitless!"
Renée can be seen as the female lead role, Mary Delgado, in the movie "Jersey Boys," directed by Clint Eastwood, and has graced the Broadway stage in many musicals. She has been featured in People.com's "Ones to Watch," Variety, and The Huffington Post.
Resource Links:
Insight Gold Timestamps:
01:57 My parents would say: Let's talk about it!
06:23 Everything in our lives starts with communication
08:33 Balancing new school technology with old school simplicity
09:27 Writing a handwritten letter
11:12 Forget about leaving a voicemail
13:33 My definition of a master communicator
17:05 We are addicted to answering someone back right away
19:38 It's so easy for us to escape ourselves
22:15 When you're entering or exiting somewhere, put the phone out of sight
25:46 Understanding and getting comfortable with this practice of speaking up
27:10 Talk from the heart
29:59 You talk about seizing the opportunity
33:17 You have a great course on this: Connecting on Camera
34:15 I want you to understand these four most powerful words the human spirit can hear….
Connect Socially:
LinkedIn: https://www.linkedin.com/in/ren%C3%A9emarino/
Facebook: https://www.facebook.com/IamReneeMarino
Twitter: https://twitter.com/ReneeMarino
YouTube: https://www.youtube.com/@iamreneemarino
Instagram: https://www.instagram.com/iamreneemarino/
Course: Connecting on Camera
Email: renee@reneemarino.com
Sponsors:
Rainmaker Digital Solutions: https://www.rainmakerdigitalsolutions.com/
Resources: https://becomingpreferred-podcast.com/resources/
Next Episode: Sales Trends and Disruption with Meghann Misiak!