Roy De Medeiros – Creating Breakthrough Sales Growth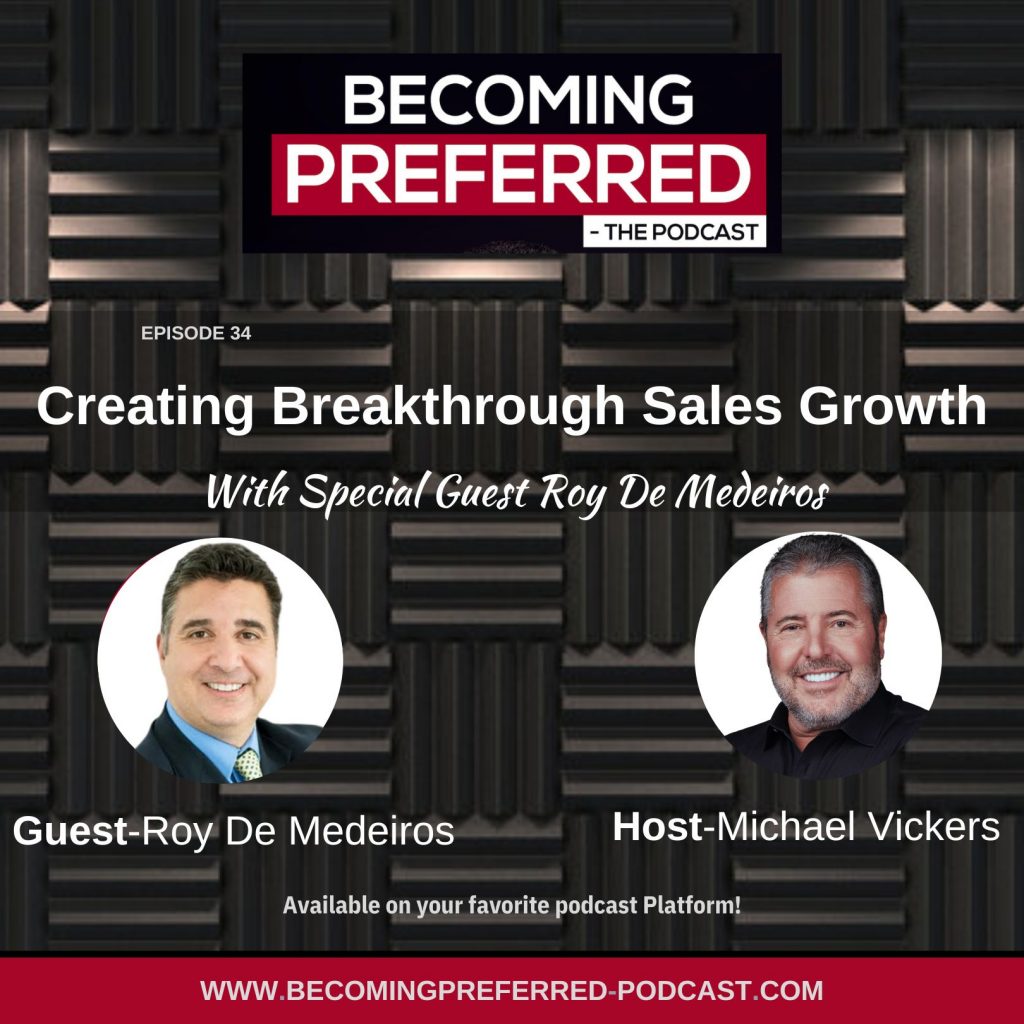 SEASON: 1 EPISODE: 34
Episode Overview:
Looking to build a high performance sales team? Have a product or service to promote? Want to recession proof your business? If you envision productive new growth for your organization in a challenging marketplace, you're going to enjoy my conversation with Roy De Medeiros.
Guest Bio:
Roy is the Founder of Fulkrem Management Group and has experience in building and directing elite customer-focused sales and account management teams, leading to the identification and capitalization of profitable growth opportunities in any industry, with extensive successes in developing and executing comprehensive customer and learning strategies.
Roy offers proven understanding of the decision-making processes along with a track record of success in complex solutions selling to C-level customers. Roy brings a nuanced comprehension of channel management strategy, combined with a demonstrable capacity to mount a strategic response to aggressive competition. Talent in coaching, mentoring, and elevating teams to elite-level performance, harnessing challenges to the status quo to bring about positive, mission critical change.
Possesses specialized expertise in pinpointing and mitigating gaps in strategy, training, and operational process, reinforced with considerable skill in leveraging performance metrics, sales optimization, and marketing tools to achieve and maintain a competitive advantage with respect to sales, revenue, and market share. When Roy is not working, he enjoys the outdoors, hiking, camping, skiing, traveling and spending time with family, friends and his family's rescue dogs.
Resource Links:
Insight Gold Timestamps:
04:50 88% of companies struggle with sales strategy
06:51 It's really important for businesses to put together plans
09:46 Are the products and services adapting to the marketplace today
11:47 RFPs
12:58 Comes down to structure
17:21 This new generation changes quite quickly
23:48 It comes down to trust
32:03 Three key areas….
Connect Socially:
LinkedIn: https://www.linkedin.com/in/roy-de-medeiros-aaa00563/
Twitter: https://twitter.com/DemedeirosRoy
Email: roy_demedeiros@fulkremgroup.com
Sponsors:
Rainmaker Digital Solutions: https://www.rainmakerdigitalsolutions.com/