Steve Hillis – Empower Your Team to Exceed Sales Goals and Maximize Profitability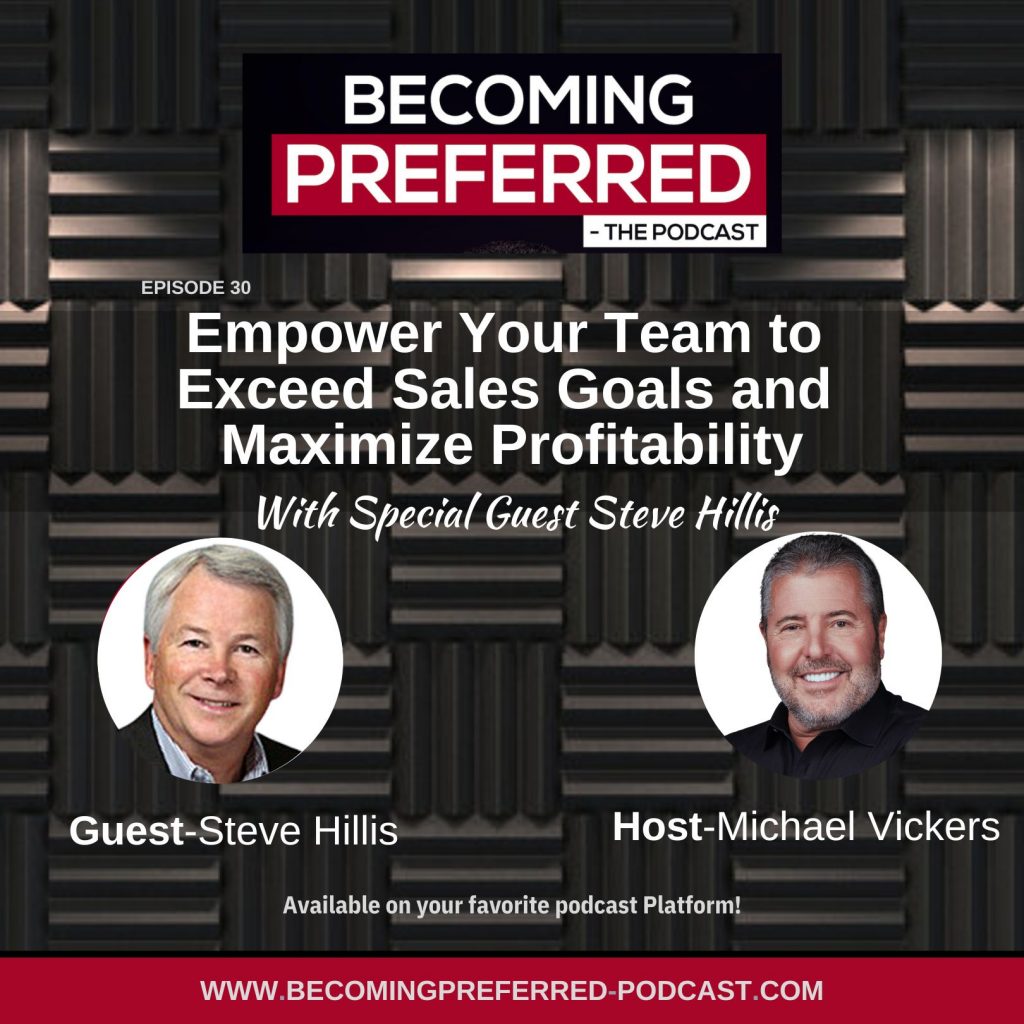 SEASON: 1 EPISODE: 30
Episode Overview:
If you're looking for ways to empower your sales and service teams to exceed goals, develop a positive mindset, maximize their effectiveness and hold them accountable for their productivity, you're going to enjoy my conversation with coach, trainer, and personal leadership expert, Steve Hillis.
Guest Bio:
Steve is a dedicated business professional specializing in business coaching and sales strategy development. He has been a driving force behind sales increases for Fortune 500 companies since 1980.
His early beginnings began with building a commercial flooring company called Metro Flooring Companies. Then leading the marketing for Tandus in the Healthcare market, working for Mohawk Commercial Group as Sr. VP of Marketing and then a business turnaround at Durkan Hospitality. Steve led a major business turn-around for Beaulieu Commercial Flooring and has consulted with over 25 firms.
Steve is today leading the Empower Partners team of professional coaches, trainers, recruiters and consultants.
Resource Links:
Insight Gold Timestamps:
04:39 Servant leadership
07:44 Our mind is not our friend…
08:19 Motivational accountability
13:14 Breaking belief barriers
17:43 Barriers for empowering a team
21:10 Empower your salesperson to build relationships and
23:16 Moving them from a bureaucracy to empowerment
25:31 Manufacturing a better bottom line
27:02 Companies get caught up in selling on price
28:30 Superior customer service
29:01 CARE – Customers Are Really Everything
Connect Socially:
LinkedIn: https://www.linkedin.com/in/steve-hillis-a3241422/
Twitter: https://twitter.com/ShillisSteve
Email: rshillis123@gmail.com
Sponsors:
Rainmaker Digital Solutions: https://www.rainmakerdigitalsolutions.com/
Resources: https://becomingpreferred-podcast.com/resources/
Next Episode: Personal Branding: Maximize Your Social Media with Joe Whitbread!