Steve Weinberg – Above Quota Performance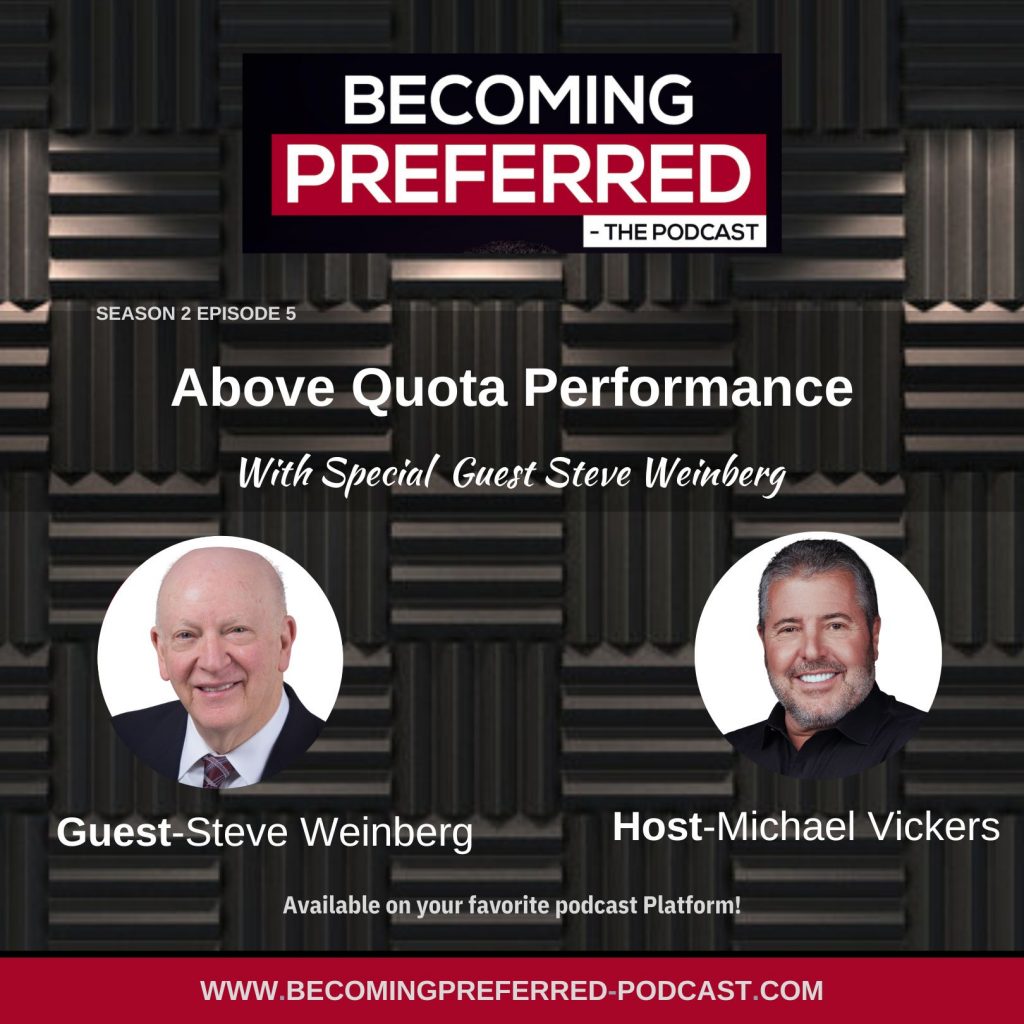 SEASON: 2 EPISODE: 5
Episode Overview:
More than 50% of sales pros regularly fail to achieve their annual sales targets. Corporations have invested generously in training, but it doesn't seem to be effective. Despite spending millions of dollars, they have not been able to solve the pervasive problem of low sales quota achievement. There is no other profession where this pattern of low performance success is tolerated.
Moreover, the pandemic has made B2B selling even more challenging. Sales is no longer a simple linear process. Today's sales professionals require new skills to deal with the profound changes in the digital marketplace. To help us understand our current environment and how we can exceed quotas is author of the just released book, Above Quota Performance. Join me now for my conversation with Steve Weinberg.
Guest Bio:
Steve Weinberg has spent his life selling and helping others sell better, more, and faster. He recently led the Accuity sales team to new sales accomplishments for twelve years. Accuity is a British-Dutch technology company that is now part of Lexis Nexis Risk Systems and is a RELX subsidiary. It provides anti-money laundering and electronic payment solutions to financial institutions and corporations. While at Accuity as a salesperson and simultaneously as a manager of a team of salespeople, Steve closed the largest sale in the company's history. Steve sold Accuity's products to Apple, Microsoft, Amazon, eBay, PayPal, Google, Facebook, Costco, Silicon Valley Bank, Intel, Prudential, Wyndham Worldwide, all of which were not previously customers.
Steve has over three decades of leadership experience in sales, including Vice Presidencies at Dun & Bradstreet Software (www.dnb.com), AC Nielsen (www.nielsen.com), Solcorp (then part of EDS, now HP) and as a Senior Manager at Deloitte and Touche (www.deloitte.com.) He is an expert at building, guiding, and sustaining high caliber sales, and creating exemplary standards in account management. Steve led many sales kickoffs and introduced formal sales training at several companies.
Resource Links:
Insight Gold Timestamps:
02:38 A lot of the buying decisions are being made now in the absence of a salesperson's influence
07:06 The exceptional salesperson is usually an extrovert, but not always
07:32 Introverts are quieter, more studious, they're more observant
08:04 Sales training theories that are now obsolete
09:43 Objections are really good….and they are information
15:30 It's on the salesperson to understand
19:37 More than 50% of sales pros regularly fail to achieve their annual sales targets
25:37 Most comp plans are the results of top-down budgeting
28:30 Sales pros need to be proactive
34:01 Land and expand
36:20 Different types of buyers
Connect Socially:
LinkedIn: https://www.linkedin.com/in/steveweinbergsales/
Facebook: https://www.facebook.com/steven.weinberg.925
Twitter: https://twitter.com/SteveW1908
Instagram: https://www.instagram.com/stevewchgo925/
Email: weinberg.steven@att.net
Sponsors:
Rainmaker Digital Solutions: https://www.rainmakerdigitalsolutions.com/
Resources: https://becomingpreferred-podcast.com/resources/
Next Episode: New Rules – Old Tools with Jim Pancero!