Randy Pennington – There is No More New Normal. There is Only a New Next!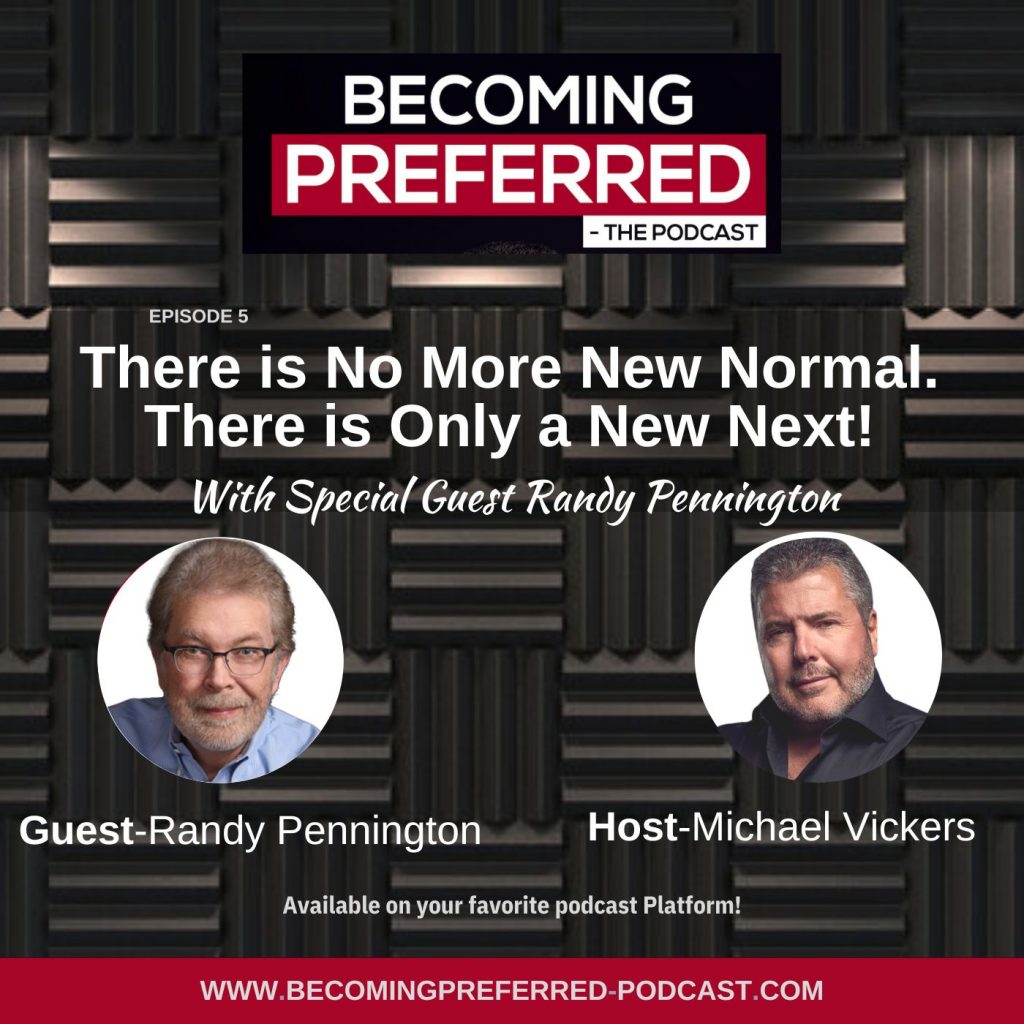 SEASON: 1 EPISODE: 5
Episode Overview:
Seismic shifts are redefining business, communities, and individual life. Your ability to navigate and leverage them while flawlessly executing today will be the difference between continued excellence, irrelevance, or even extinction. Now is the time to pursue your New Next. In this episode, Randy Pennington shares the specific mindset and strategies leaders need to prepare their organization to flourish in the face of upheaval and uncertainty. Most importantly, he provides a roadmap for developing and sustaining the culture you need to set yourself apart and compete in our new reality. Join me now for my conversation with Randy Pennington.
Guest Bio:
Randy Pennington is a business performance veteran, author, and an expert in helping organizations build a culture focused on results. His client list includes leading organizations in business, non-profits, and government. Randy focuses on what works in your world—the real world—and he does it in a style that relates to people at every level of every organization.
His personal work experience has taken him from a locker room attendant at a municipal swimming pool to consulting in the Board rooms of corporate America.
Randy is author of the award-winning books Results Rule! and Make Change Work. His insights have appeared in Fast Company, Entrepreneur, the New York Times, and as a contributor to the Huffington Post.
Resource Links:
Insight Gold Timestamps:
10:34 Emotional readiness
12:03 Positive Paranoia
13:29 No one ever argues with their own ideas
15:14 Changes that we should ignore
25:05 Easier to ride a horse in the direction that it's going
29:28 Involvement and Support
32:57 Resistance to change is your friend, not your enemy
Connect Socially:
LinkedIn: https://www.linkedin.com/in/randygpennington/
Facebook: https://www.facebook.com/RandyGPennington/
Twitter: https://twitter.com/randypennington
YouTube: https://www.youtube.com/user/randygpennington
Email: randy@penningtongroup.com
Sponsors:
Rainmaker Digital Solutions: https://www.rainmakerdigitalsolutions.com/
Resources: https://becomingpreferred-podcast.com/resources/
Next Episode: SPARK UP Your Creative Thinking and Creativeness at Work with Alan Black!