Tim Gard – Using Humor as a Professional Skill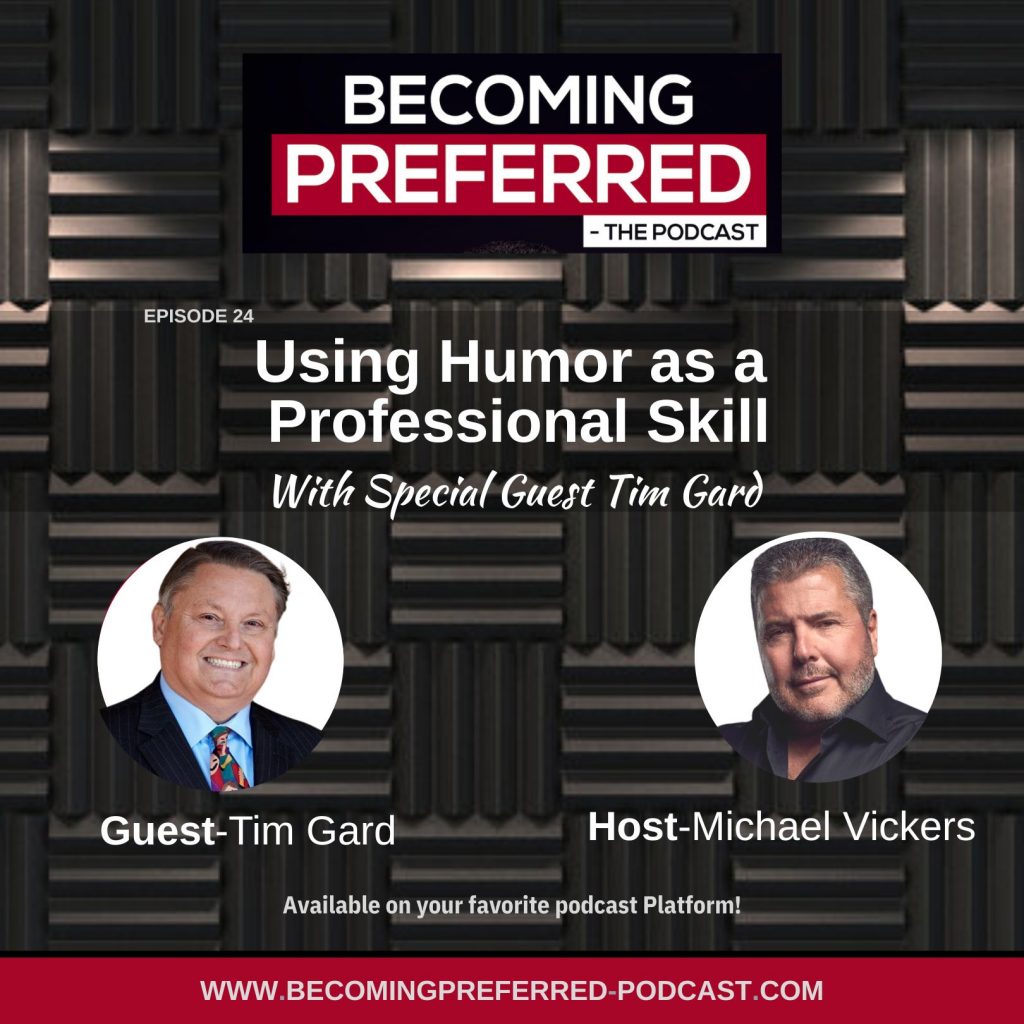 SEASON: 1 EPISODE: 24
Episode Overview:
As business professionals, the pressures, stress, and expectations we face can take a toll on our resilience and drain our sense of resourcefulness, leaving us stressed with motivational fatigue. We can combat this fatigue when we use humor to be more resilient, enhance productivity and team enthusiasm. To help us understand how to develop and employ humor in our businesses and profession is author, speaker, and humorist coach, Tim Gard.
Guest Bio:
Tim Gard is a motivational, funny keynote speaker, corporate entertainer, and emcee. Tim is known for bringing tears of laughter to audiences worldwide. More than an insightful and funny guy, Tim teaches people to be more resilient and resourceful using their own comedic style. He also coaches businesses on how to enhance productivity through employee enthusiasm by using appropriate workplace humor.
An internationally recognized authority on stress reduction and conflict resolution, Tim's easy- to-implement techniques demonstrate ways to diffuse, deal with, and ultimately avoid stressful encounters. Tim does not make light of serious issues; rather, he shines a light on previously unseen possibilities to overcome challenging situations.
Resource Links:
Insight Gold Timestamps:
08:39 It's only stupid if you do it twice
10:42 You change your perception, you create a different reality
12:52 It's important that we learn to laugh at ourselves
16:54 When in doubt, leave it out
21:38 If we exaggerate too much, it invalidates everything
23:31 Sniglets
32:49 We really need to recharge
36:20 We all smile and laugh in the same language
Connect Socially:
LinkedIn: https://www.linkedin.com/in/timgard/
Facebook: https://www.facebook.com/funwithtim
Twitter: https://twitter.com/funwithtim
YouTube: https://www.youtube.com/c/TimGard
Instagram: https://www.instagram.com/funwithtim/
Email: tim@timgard.com
Sponsors:
Rainmaker Digital Solutions: https://www.rainmakerdigitalsolutions.com/
Resources: https://becomingpreferred-podcast.com/resources/
Next Episode: Growing Your Business Socially with Barbara Rozgonyi!