Todd Caponi – Transparency Sells Better Than Perfection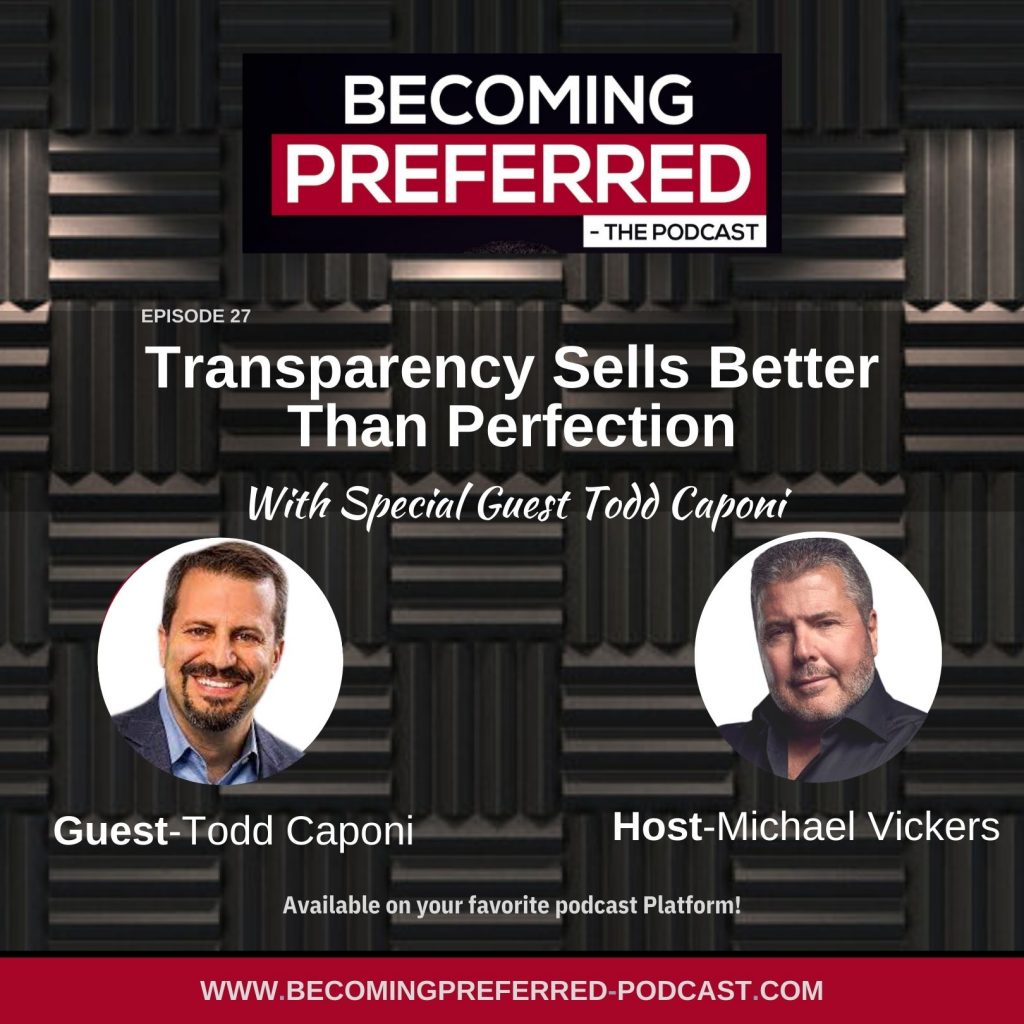 SEASON: 1 EPISODE: 27
Episode Overview:
The future of sales is radically transparent. Are you ready for it? Today, anyone buying anything relies on reviews and feedback shared by strangers and often trust those anonymously posted experiences more than the claims made by the providers of the products or services themselves. They expect to see the full picture and find out all of the pros and cons before making any purchase. And the larger the purchase, the greater the demand for transparency.
As it turns out, it also leads better, retains better, grows better, and creates advocates better. To understand how transparency can become your revenue superpower, Join me now for my conversation with Author, Speaker, and Coach, Todd Caponi.
Guest Bio:
A multi time successful sales leadership professional. An inspiring teacher / trainer. A sought after board member. A trusted mentor. A popular sales and behavioral/decision science commentator, writer and speaker.
Todd Caponi could be described as any of the above. But what makes him unique is that he is all of the above.
Now, he spends his time as a speaker & workshop leader, also CEO & Founder of Sales Melon LLC. teaching (primarily tech) company's salespeople and leaders how to provide quick, easy-to-implement ways to thrive in any environment!
Resource Links:
Insight Gold Timestamps:
06:11 Buyers know more nowadays (since 1911)
08:28 Consensual selling and consensual buying
15:15 We all read reviews
18:42 Why you might not be a good choice
20:18 Would you rather they find out from you or your competitor?
24:23 The five F's
27:46 Four elements that lead to your results
29:34 Why change? Why you? And why now?
30:57 A.I.D.A. Attention, Interest, Desire, Action
35:03 Transparency sells better than perfection
39:28 In sales we start everybody over at zero
Connect Socially:
LinkedIn: https://www.linkedin.com/in/toddcaponi/
Facebook: https://www.facebook.com/todd.caponi.1
Twitter: https://twitter.com/tcaponi
YouTube: https://www.youtube.com/watch?v=3xnCFZkxm1Y
Instagram: https://www.instagram.com/tcaponi/
Email: tcaponi@salesmelon.com
Sponsors:
Rainmaker Digital Solutions: https://www.rainmakerdigitalsolutions.com/
Resources: https://becomingpreferred-podcast.com/resources/
Next Episode: Get the Edge with Diversity, Equity & Inclusion with Jillian Kruschell!