Becoming Preferred Season 1 Recap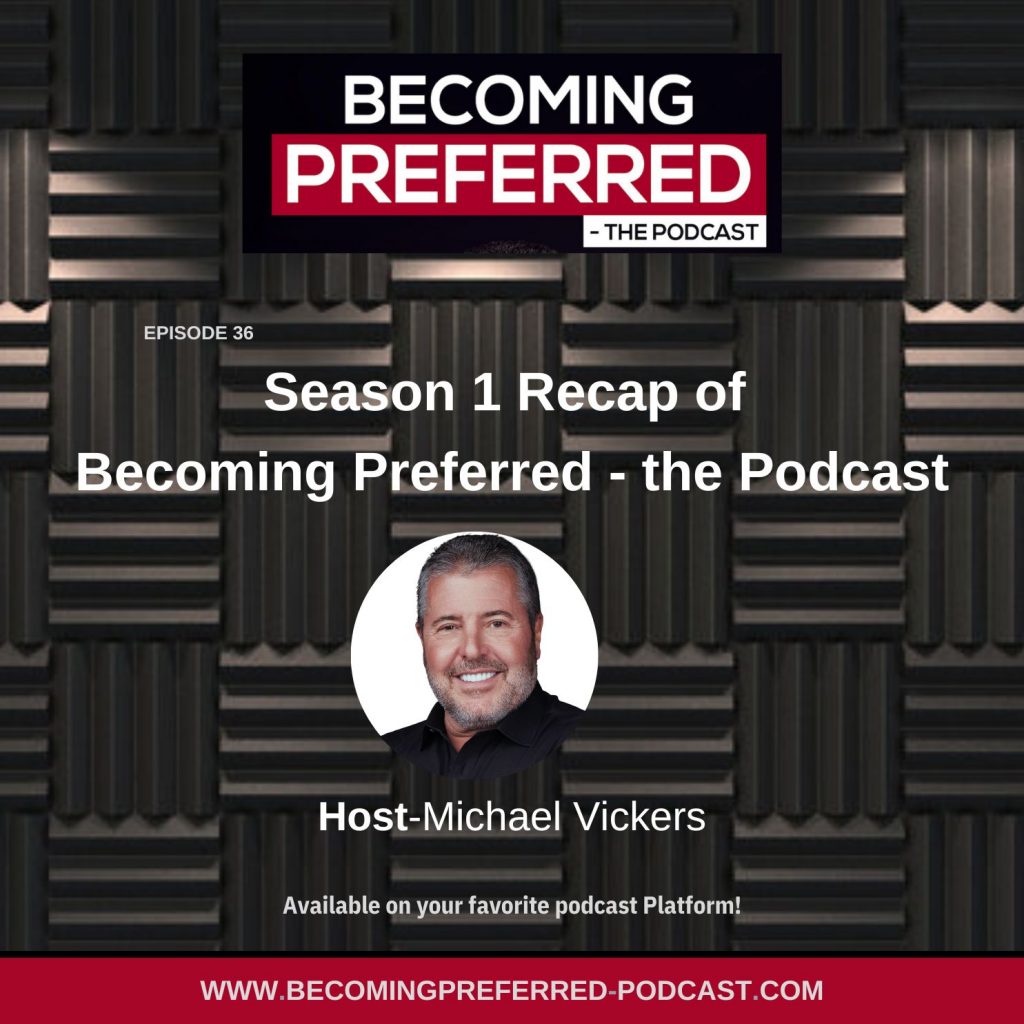 SEASON: 1 EPISODE: 36
The Becoming Preferred Podcast is all about helping you authentically differentiate yourself and stand out in a congested marketplace. Whether you are a business professional, an entrepreneur, a business owner, or just want to enhance your understanding, our goal is to expose you to subject matter experts that are active practitioners in their field and share insights that, if applied, can positively impact your life.
We have just finished our first season and we want to thank our guests for generously sharing their insights, and we thank you for listening and supporting the podcast.
Our goal with each episode is to deliver insights, strategies and tactics that will give you an edge and help you authentically differentiate yourself in a competitive marketplace.
Episode #1: Eliot Hoppe – Body Language: Decoding Non-Verbal Communication Remotely
Episode #2: Jim Cathcart – How to Develop a Pro Mindset
Episode #3: Michelle Dickinson – Mental Health in the Workplace
Episode #4: Kit Welchlin – Connecting and Communicating in a Multi-Generational Workplace
Episode #5: Randy Pennington – There is no more new normal. There is only a new Next!
Episode #6: Alan Black – SPARK UP Your Creative Thinking and Creativeness at Work
Episode #7: Billy Arcement – Respect, Relationships & Culture with the Candid Cajun
Episode #8: Larry Stevenson – Teamwork Makes the Dream Work
Episode #9: Sophia Falke – Embracing Greatness, Living the Life You Love!
Episode #10: Linda Cohen – Discover the Return on Investment of Kindness (ROI)
Episode #11: Teddy Burriss – Building a Relevant and Meaningful LinkedIn Network
Episode #12: Jess Tiffany – Strategically Grow Your LinkedIn Business Connections
Episode #13: Cathy Fyock – Your Book Is Your Best Business Card
Episode #14: Amy Reczek – We Convince By Our Presence
Episode #15: Kathi Kulesza – Leading with Assertive Confidence
Episode #16: Cliff Quicksell – Secrets to Small Business Success and Profitability
Episode #17: Frank King – Landing and Leveraging a TEDx Talk
Episode #18: Lauren Schieffer – Significant Leadership….It Starts With You
Episode #19: Michael Gregory – Become Preferred Through Collaboration
Episode #20: Frank King – Suicide Prevention….Start the Conversation
Episode #21: Deborah Johnson – Create Your Ideal Work and Lifestyle!
Episode #22: Shawna Schuh – Increase Your Team's Productivity and Results
Episode #23: Laura Handke – Free Your Authentic Voice and Find Your Power
Episode #24: Tim Gard – Using Humor as a Professional Skill
Episode #25: Barbara Rozgonyi – Growing Your Business Socially
Episode #26: John Brennan – Emotional Intelligence: The Key to the Customer Experience
Episode #27: Todd Caponi – Transparency Sells Better Than Perfection
Episode #28: Jillian Kruschell – Get the Edge with Diversity, Equity & Inclusion
Episode #29: Denise Galloni – Overcoming Obstacles to Find Your Voice
Episode #30: Steve Hillis – Empower Your Team to Exceed Sales Goals and Maximize Profitability
Episode #31: Joe Whitbread – Personal Branding: Maximize Your Social Media
Episode #32: Dave Conway – Mindset and Sales Success
Episode #33: Stacey Hall – Selling From Your Comfort Zone
Episode #34: Roy De Medeiros – Creating Breakthrough Sales Growth
Episode #35: Frank King Encore – Suicide Prevention….Start the Conversation